Since I hadn't done one of these posts in awhile, my last Spotlight On (#7) was actually films that I'd seen some time ago. This batch are ones that I've watched more recently 🙂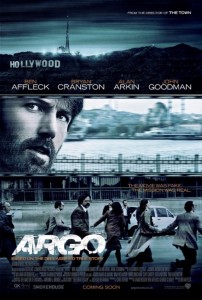 Argo
Released: 2012
Directed by: Ben Affleck
Written by: Chris Terrio (screenplay), Joshuah Bearman (article)
Starring: Ben Affleck, Bryan Cranston & John Goodman
Plot: A dramatization of the 1979-1980 joint CIA-Canadian secret operation to extract six fugitive American diplomatic personnel out of revolutionary Iran.
For: Very well directed. Affleck is a far better director than he is an actor / The Argo read through is awesome, I would love to see this actually get made (but of course it wont) / Mark steps up to the plate at the airport / Alan Arkin is awesome (as always)
Against: Not as gripping as I expected. It is entertaining but could have been so much more. For example, instead of chasing the plane down at the airport (which apparently never happened) why not just radio the plane from the tower and demand that they not take off?
Favourite Scene: The Argo read through, and every scene with Arkin.
Rating: 4 Lukes