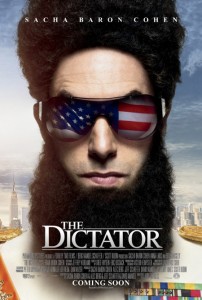 The Dictator
Released: 2012
Directed by: Larry Charles
Written by: Sacha Baron Cohen, Alec Berg
Starring: Sacha Baron Cohen, Anna Faris and Ben Kingsley
Plot: The heroic story of a dictator who risks his life to ensure that democracy would never come to the country he so lovingly oppressed.
For: Some scenes quite funny
Against: Faris is wasted / Most of it is not funny / Not as good as Borat, but better than Bruno
Favourite Scene: Most of the scenes dealing with life in Wadiya
Rating: 1.5 Lukes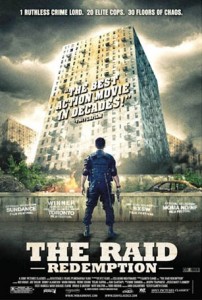 The Raid: Redemption
Released: 2011
Directed by: Gareth Evans
Written by: Gareth Evans
Starring: Iko Uwais, Ananda George and Ray Sahetapy
Plot: A SWAT team becomes trapped in a tenement run by a ruthless mobster and his army of killers and thugs.
For: Insanely cool action sequences / Over the top violence
Against: Not as much fun as I thought its would be / Some of the fight scenes go on a little long
Favourite Scene: Everything from when the alarm is triggered to cutting a whole in the floor to escape
Rating: 4 Lukes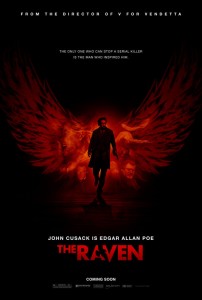 The Raven
Released: 2012
Directed by: James McTeigue
Written by: Ben Livingston (screenplay), Hannah Shakespeare (screenplay)
Starring: John Cusack, Alice Eve and Luke Evans
Plot: When a madman begins committing horrific murders inspired by Edgar Allan Poe's works, a young Baltimore detective joins forces with Poe to stop him from making his stories a reality.
For: Interesting idea
Against: Boring / Cusak is phoning it in / Evans tries hard but just can't pull it off (I like him though) / Predictable / Terrible ending
Favourite Scene: The Pendulum
Rating: 0.5 Lukes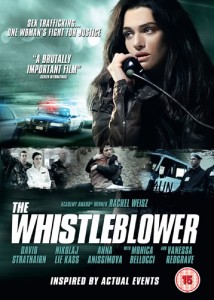 The Whistleblower
Released: 2010
Directed by: Larysa Kondracki
Written by: Larysa Kondracki, Eilis Kirwan
Starring: Rachel Weisz, Monica Bellucci, David Strathairn and Vanessa Redgrave
Plot: Based on the experiences of Nebraska cop Kathryn Bolkovac, who served as a peacekeeper in post-war Bosnia and outed the U.N. for covering up a scandal involving sex slaves and human trafficking.
For: Harrowing stuff, especially as it is based on a true story / Excellent performance from Weisz / Great cinematography
Against: Not quite as good as it could have been / Some scenes are clearly intended to be powerful but fall flat / Scenes involving Kathryn's home life are dull
Favourite Scene: Kathryn breaks down after getting so close and having it all pulled out from under her
Rating: 3.5 Lukes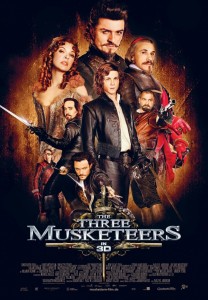 The Three Musketeers
Released: 2011
Directed by: Paul W.S. Anderson
Written by: Alex Litvak (screenplay), Andrew Davies (screenplay)
Starring: Logan Lerman, Matthew Macfadyen, Milla Jovovich, Luke Evans, Orlando Bloom, Mads Mikkelsen and Ray Stevenson
Plot: The hot-headed young D'Artagnan along with three former legendary but now down on their luck Musketeers must unite and defeat a beautiful double agent and her villainous employer from seizing the French throne and engulfing Europe in war.
For: Design is pretty cool – the flying ships look great (but are badly realised CGI)
Against: The plot is incredibly stupid, the acting is bad (especially from Lerman), and it makes the cardinal sin for an action film – it's boring
Favourite Scene: Can't think of one.
Rating: 0.5 Lukes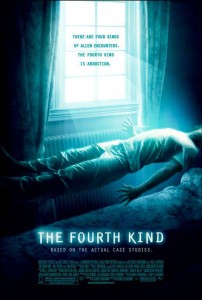 The 4th Kind
Released: 2009
Directed by: Olatunde Osunsanmi
Written by: Olatunde Osunsanmi
Starring: Milla Jovovich, Elias Koteas and Will Patton
Plot: Supposedly based on a true story, involving an ongoing unsolved mystery in Alaska, where one town has seen an extraordinary number of unexplained disappearances during the past 40 years and there are accusations of a federal cover up.
For: Nothing
Against: Everything else. I was willing to give this film a go because the intro by Milla seemed so sincere (but badly shot). 15 mins in I was bored out of my head, and incredibly skeptical about the supposed 'Actual Events' facet of the story. One of the ways they attempt to show this is having a split screen showing the 'real' footage of Abbey Tyler next to the recreation with Milla. Not only is this pointless, (why bother re-creating this footage if you have the 'real' stuff), but even worse, the 'real' Abbey is giving a far better performance than Milla (who I quite like and is capable of so much more). After this scene I jumped on the interwebs and found that this film is in fact not based on real events and that Abbey Tyler doesn't even exist! That really annoyed me. I don't personally believe in alien abduction stories, but the actions of the producers of this film belittle the people that do believe as well as the families of the actual missing people in Nome Alaska, and that is a disgrace. They should have been honest and stated right from the outset that it was a mockumentary and changed the name of the location. In order to write this review I did watch the rest and unfortunately it didn't get any better.
Favourite Scene: None
Rating: 0 Lukes