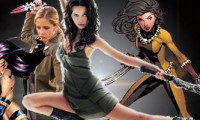 Episode #102 features:
News: SDCC is on now / RIP James Garner / Batman 75th Anniversary / Doctor Who ep 1, The Flash ep1 & Constantine ep1 all leaked / Deadpool arrested in Sydney!
Reviews: Fargo the Series / The Martian by Andy Weir / Dawn of the Planet of the Apes
Contest of Champions: Buffy Summers vs X-23 vs River Tam vs Psylocke
Azerothian Times: Hearthstone – Naxxramas – Arachnid Quarter / Transmogging / Horde Chopper mount / Bo gets his Legendary Cloak / and much more!
Download
(right click and select Save Link As)
Meow's Mega Bag of Swag pic!