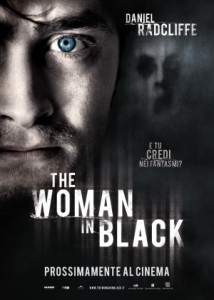 The Woman in Black
Released: 2012
Directed by: James Watkins
Written by: Susan Hill (novel), Jane Goldman (screenplay)
Starring: Daniel Radcliffe, Janet McTeer and Ciarán Hinds
Plot: A recently widowed young lawyer travels to a remote village where he discovers the vengeful ghost of a scorned woman is terrorizing the locals by murdering their children.
For: A welcome addition to the Hammer Studios. Very atmospheric, with a great performance from Radcliffe (I was finally able to see him as another character and not just Harry Potter). It uses all the haunted house cliches, but generally uses them well.
Against: Arthur doesn't seem all that concerned by the presence of the ghost / Some of the 'scares' are painfully obvious.
Favourite Scene: Almost every Woman in Black appearance / Arthur places his hand on the window palm print and gets a nasty surprise.
Rating: 3.5 Lukes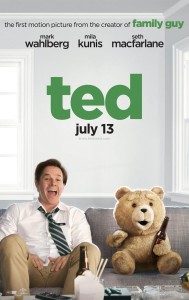 TED
Released: 2012
Directed by: Seth MacFarlane
Written by: Seth MacFarlane. Alec Sulkin & Wellesley Wild
Starring: Mark Wahlberg, Mila Kunis and Seth MacFarlane
Plot: As the result of a childhood wish, John Bennett's teddy bear, Ted, came to life and has been by John's side ever since – a friendship that's tested when Lori, John's girlfriend of four years, wants more from their relationship.
For: Funnier than it should be / Mila Kunis / Sam Jones / 'Look what Jesus did!'
Against: Some of the jokes fall flat / I love Giovanni Ribisi & Patrick Warburton, but their scenes drag the film to a halt / Norah Jones can't act
Favourite Scene: TED is revealed to the world / Partying with Sam Jones / Every scene with TED and his boss at the grocery store
Rating: 3.5 Lukes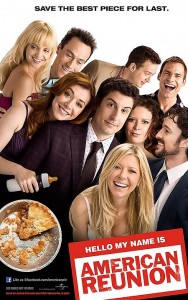 American Reunion
Released: 2012
Directed by: Jon Hurwitz & Hayden Schlossberg
Written by: Jon Hurwitz & Hayden Schlossberg
Starring: Jason Biggs, Alyson Hannigan and Seann William Scott
Plot: Jim, Michelle, Stifler, and their friends reunite in East Great Falls, Michigan for their high school reunion.
For: Jim's dad (the legendary Eugene Levy) is always awesome
Against: Nostalgia is great, but sometimes it's good to know when to let go / Not funny
Favourite Scene: Every scene with Jim's Dad.
Rating: 1.5 Lukes
Click More for more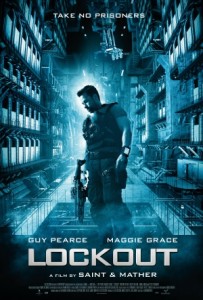 Lockout
Released: 2012
Directed by: James Mather & Stephen St. Leger
Written by: James Mather, Luc Besson & Stephen St. Leger
Starring: Guy Pearce, Maggie Grace and Peter Stormare
Plot: A man wrongly convicted of conspiracy to commit espionage against the U.S. is offered his freedom if he can rescue the president's daughter from an outer space prison taken over by violent inmates.
For: Australia's own, Guy Pierce!
Against: Everything else – the motorbike chase is some of the worst FX I have seen in a modern film / I can't stand Maggie Grace / the 'action' is boring
Favourite Scene: None
Rating: 0.5 Lukes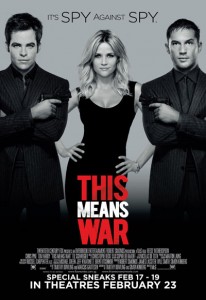 This Means War
Released: 2012
Directed by: McG
Written by: Timothy Dowling (screenplay), Simon Kinberg (screenplay) & Marcus Gautesen (story)
Starring: Reese Witherspoon, Chris Pine and Tom Hardy
Plot: Two top CIA operatives and best friends wage an epic battle against one another after they discover they are dating the same woman.
For: Some funny moments / action scenes are cool / Tom Hardy is great as always
Against: Predictable / Chris Pine has nowhere near as much charm as his character is supposed to have
Favourite Scene: Every scene where they attempt to sabotage each other.
Rating: 2.5 Lukes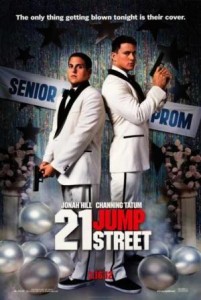 21 Jump Street
Released: 2012
Directed by: Phil Lord & Chris Miller
Written by: Michael Bacall & Jonah Hill
Starring: Jonah Hill, Channing Tatum & Ice Cube
Plot: A pair of underachieving cops are re-assigned to the Jump Street program, where they are ordered back to a local high school in order to infiltrate a synthetic drug ring.
For: Very funny / Hill and Tatum work well together / The first modern school film I've seen that acknowledges that high school is not the same as it was in the 80's / Cool cameo scene (not going to spoil it) / Frankly I was surprised I enjoyed this so much
Against: Some scenes fall flat / The female teacher obsessed with Jenko plot isn't funny
Favourite Scene: Opening sequence in the park / Disappointment at no explosions in car chase scene / the youtube video of the kid taking the drug
Rating: 4 Lukes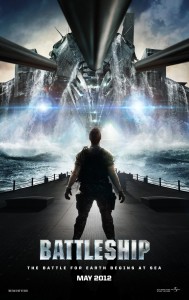 Battleship
Released: 2012
Directed by: Peter Berg
Written by: Erich Hoeber & Jon Hoeber
Starring: Taylor Kitsch, Rihanna, Alexander Skarsgård, Brooklyn Decker and Liam Neeson
Plot: A small group of ships is forced to do battle with alien ships in order to discover and thwart their destructive goals.
For: FX are very well done / Always good to see Liam Neeson / 'But sir, I saved the world' is funny
Against: Too many to list here – The Story is a complete dog, with plot holes big enough to fly one of the alien ships through / The Michael Bay-esque cinematography has got to go! / Alex is one of the most annoying characters I have had the misfortune to watch. I wanted him dead within the first 10 minutes / Someone please explain this scenario – if Alex is such a screwup, how does he gain the rank of Lieutenant? Why hasn't he been thrown out of the Navy? / All due respect to the veterans, but why are they sitting around the USS Missouri? Why are they still there after the ceremony from a day ago? And why does the ship have any live ammunition on it? Its a friggin' museum! I'm giving this the same score as Lockout, but the difference is Lockout is just boring, while this film pissed me off with it's stupidity. Studios stop giving Berg money, he friggin' sucks!
Favourite Scene: 'But sir, I saved the world' only good scene
Rating: 0.5 Lukes