Since I hadn't done one of these posts in awhile, my last Spotlight On (#7) was actually films that I'd seen some time ago. This batch are ones that I've watched more recently 🙂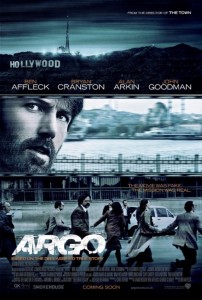 Argo
Released: 2012
Directed by: Ben Affleck
Written by: Chris Terrio (screenplay), Joshuah Bearman (article)
Starring: Ben Affleck, Bryan Cranston & John Goodman
Plot: A dramatization of the 1979-1980 joint CIA-Canadian secret operation to extract six fugitive American diplomatic personnel out of revolutionary Iran.
For: Very well directed. Affleck is a far better director than he is an actor / The Argo read through is awesome, I would love to see this actually get made (but of course it wont) / Mark steps up to the plate at the airport / Alan Arkin is awesome (as always)
Against: Not as gripping as I expected. It is entertaining but could have been so much more. For example, instead of chasing the plane down at the airport (which apparently never happened) why not just radio the plane from the tower and demand that they not take off?
Favourite Scene: The Argo read through, and every scene with Arkin.
Rating: 4 Lukes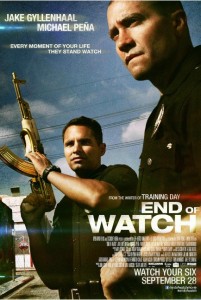 End of Watch
Released: 2012
Directed by: David Ayer
Written by: David Ayer
Starring: Jake Gyllenhaal, Michael Peña & Anna Kendrick
Plot: Two young officers are marked for death after confiscating a small cache of money and firearms from the members of a notorious cartel.
For: Both Gyllenhaal & Pena are great / Some really well done scenes – like finding the kids, the house with the bodies, and the funeral.
Against: Uses the found footage format by having Brian (Gyllenhaal) supposedly shooting footage for his class. However this doesn't quite work, as there are shots that clearly didn't come from either his cameras or outside sources (like when he's in bed with his girlfriend). And while we're on the subject of his cameras, how the hell did he afford this equipment on his salary?
Favourite Scene: Finding the kids
Rating: 3.5 Lukes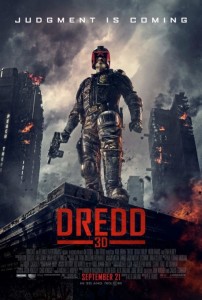 Dredd
Released: 2012
Directed by: Pete Travis
Written by: Alex Garland
Starring: Karl Urban, Olivia Thirlby & Lena Headey
Plot: In the violent, futuristic Mega City, the Judges act as judge, jury & executioner. While on an evaluation mission, two Judges become trapped in an apartment building and need to take out the gang that controls it in order to escape.
For: FAR better than the Stallone effort (goddamn that movie sucked!) / Urban obviously having a lot of fun playing Dredd / Cool plot (although HEAVILY influenced by The Raid) / Faithful to the comic
Against: Slo-Mo effect is cool, but overused / Too many annoying plot holes, like – Why Does Anderson sneak up behind those guys, beat them up, and then shoot them? Why not simply shoot them in the back of the head? Why doesn't Dredd take the ammo off of the first Judge that he kills? He already knew he was running low. And, if MaMa had these crooked Judges available why go to all of this trouble to stop her henchman from leaving the building? One of them could have killed him as soon as they left the building, or at the very least, when they got to the station house! (Yes, I know that they are from different sectors, but I'm sure they could have found a way to visit the other sector's station). Either way, MaMa's elaborate machinations are ridiculous.
Favourite Scene: The stationary guns take out the entire floor / Dredd & Anderson take out the room full of druggies / MaMa Slo-Mo'ing in the bath
Rating: 3.5 Lukes
Released: 2012
Directed by: Rob Cohen
Written by: Marc Moss (screenplay) & Kerry Williamson (screenplay)
Starring: Tyler Perry, Matthew Fox & Rachel Nichols
Plot: A homicide detective is pushed to the brink of his moral and physical limits as he tangles with a ferociously skilled serial killer who specializes in torture and pain.
For: Nothing – seriously.
Against: Tyler Perry is awful, but Mathew Fox is far worse. In fact, the only person to come out of this with any dignity intact is Cicely Tyson, the rest should be ashamed of themselves / This film is an absolute piece of rubbish and should be avoided.
Favourie Scene: None
Rating: 0 Lukes
Released: 2012
Directed by: David Palmer & Dax Shepard
Written by: Dax Shepard (screenplay)
Starring: Dax Shepard, Kristen Bell & Bradley Cooper
Plot: Former getaway driver Charlie Bronson jeopardizes his Witness Protection Plan identity in order to help his girlfriend get to Los Angeles and runs into his old gang on the way.
For: A bit weird seeing Dax Shepard as the leading man, but I think he pulls it off. He has a natural relaxed charm that works / Bradley Cooper (doing his best Seth Green)
Against: Boring / The slo-mo Pure Imagination scene / Tom Arnold / The whole 'Pounce' sub plot is terrible / 'Were you f**ked by a black guy?' is a disgrace / For a film called Hit & Run I expected far more car chases 🙁
Favourite Scene: Annie's job interview
Rating: 1 Luke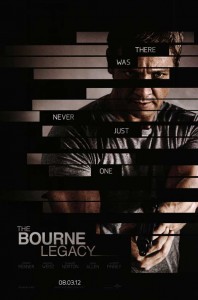 The Bourne Legacy
Released: 2012
Directed by: Tony Gilroy
Written by: Tony Gilroy (screenplay) & Dan Gilroy (screenplay)
Starring: Jeremy Renner, Rachel Weisz & Edward Norton
Plot: An expansion of the universe from Robert Ludlum's novels, centered on a new hero whose stakes have been triggered by the events of the previous three films.
For: Top cast, but they deserve better than this / Some great scenery
Against: Really should have been called 'We Really Wish We Had Matt Damon' – an exaggeration but it honestly feels like Jason Bourne's name is mentioned every 2 minutes. How are we supposed to create a rapport with Jeremy's character, if the whole film feels like a Jason Bourne Love-Fest? Basically this film didnt need to be made, and has nothing new or interesting to tell.
Favourite Scene: At the cabin with the other agent
Rating: 1.5 Lukes