Welcome to another of my Battle Pet guides. This time we'll be looking at the quest Battle Pet Tamers: Pandaria. These trainers are also available as Dailies, and are an excellent way to level your Pets.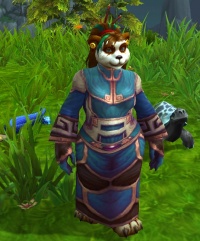 Fight 1. Hyuna of the Shrines
The Jade Forest
Pets Needed:
Slot 1. Nexus Whelpling : Tail Sweep, Mana Surge, Arcane Storm
Slot 2. Leveling Pet
Slot 3. Any Moth : Alpha Strike, Cocoon Strike, Moth Dust
Strat:
Skyshaper – Arcane Storm, Mana Surge, Mana Surge. Skyshaper dies.
Fangor – Mana Surge  will complete with one more go. Then switch to your leveling Pet. Fangor will Burrow so switch to the Moth. Finish him by spamming Alpha Strike.
Dor the Wall – His first attack is a Headbutt so you Cocoon Strike to block it. Moth Dust, then spam Alpha Strike until he's dead, throwing in a Moth Dust on CD.