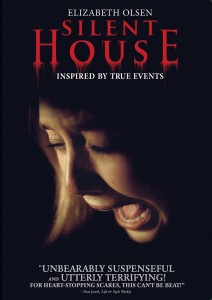 Silent House
Released: 2011
Directed by: Chris Kentis & Laura Lau
Written by: Gustavo Hernández (original film story), Laura Lau (remake screenplay)
Starring: Elizabeth Olsen, Adam Trese and Eric Sheffer
Plot: Sarah, her father and her uncle are getting their lakeside retreat ready for sale. But things take an ominous turn and Sarah finds she is unable to contact the outside world as events become increasingly freaky in and around the house.
For: A couple of scenes are well done / Elizabeth is great as always
Against: Very predictable, her father is practically drooling everytime he looks at her / 2 Directors, never a good sign! / Not even slightly scary
Favourite Scene: Sarah uses the flash to see.
Rating: 1 Luke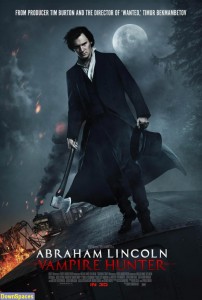 Abraham Lincoln, Vampire Hunter
Released: 2012
Directed by: Timur Bekmambetov
Written by: Seth Grahame-Smith (screenplay)
Starring: Benjamin Walker, Rufus Sewell and Dominic Cooper
Plot: Abraham Lincoln, the future President of the United States, witnesses the death of his mother at the hands of a vampire. He vows revenge makes it his mission to eliminate them all.
For: Quite stylish at times, some of the action scenes are well done / Benjamin Walker does well and always good to see Rufus Sewell / Cool idea / The vampire effects are well done
Against: The majority of the action scenes are ridiculously over the top and the film has an over-reliance on SFX that detracts from the narrative
Favourite Scene:
Rating: 2 Lukes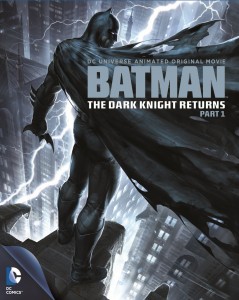 Batman: The Dark Knight Returns Part 1
Released: 2012
Directed by: Jay Oliva
Written by: Bob Goodman (screenplay), Frank Miller (graphic novel)
Starring: Peter Weller, Ariel Winter & David Selby
Plot: Based on the classic graphic novel – Batman has not been seen for ten years. A new breed of criminal ravages Gotham City, forcing 55-year-old Bruce Wayne back into costume. But, does he still have what it takes to fight crime in a new era?
For: Respectful of the source material, the changes make sense and aren't detrimental / Animation is great / All of the voice actors give it their all
Against: Only Part 1!!! A shameless money grab from Warners / Weller is great, but no Kevin Conroy just feels weird
Favourite Scene: The Joker is back!
Rating: 3.5 Lukes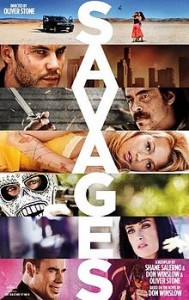 Savages
Released: 2012
Directed by: Oliver Stone
Written by: Shane Salerno (screenplay), Don Winslow (screenplay)
Starring: Aaron Taylor-Johnson, Taylor Kitsch & Blake Lively
Plot: Hipster drug dealers Ben and Chon face off against the Mexican drug cartel who kidnapped their shared girlfriend.
For: Well shot / Well acted, except for…
Against: Blake Lively is right up there with Sam Worthington in the 'Inexplicably popular even though they're terrible' group.  Hollywood, please stop giving these people work / Boring story / The 'it was all a dream' style ending is stupid / Boring
Favourite Scene: The montage at the start
Rating: 2 Lukes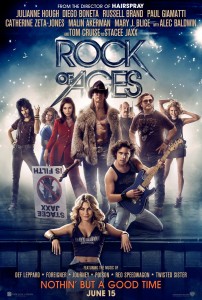 Rock of Ages
Released: 2012
Directed by: Adam Shankman
Written by: Justin Theroux (screenplay), Chris D'Arienzo (screenplay)
Starring: Julianne Hough, Diego Boneta & Tom Cruise
Plot: A small town girl and a city boy meet on the Sunset Strip, while pursuing their Hollywood dreams.
For: A lot of fun / Great singing alone to the songs of my youth / Great Cast – Cruise is great as Jaxx, (except when he attempts to sing)
Against: Cruise can't sing / Not all of the musical numbers are good / Not as funny as it thinks it is
Favourite Scene: Every scene Cruise is in
Rating: 3.5 Lukes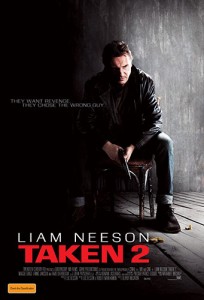 Taken 2
Released: 2012
Directed by: Olivier Megaton
Written by: Luc Besson & Robert Mark Kamen
Starring: Liam Neeson, Famke Janssen & Maggie Grace
Plot: While on holiday in Istanbul, retired CIA operative Bryan Mills and his wife are taken hostage by the father of one of the kidnappers Mills killed while rescuing his daughter in the first Taken.
For: Neeson is great as always / Surprisingly Maggie didnt annoy me
Against: Kim just randomly throws grenades into civilian areas! / The fight scenes use the incredibly annoying up close & obscured style that seems the preferred method these days, which is in stark contrast to the awesome and brutal fights in the original / Not very exciting / Megaton simply cannot direct good films
Favourite Scene: Kim uses the map to find her father / Mills infiltrates the building where Lenny is being held.
Rating: 2 Lukes