Welcome to the triumphant return of Behind the Counter, where we spotlight the stores that supply us with objects of our various obsessions.
For this installment we have another international entry, Pulp Fiction, from beautiful Long Beach, California USA!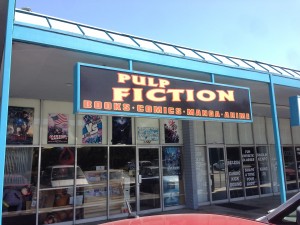 I was first introduced to Pulp Fiction through their online store – CheapGraphicNovels.com. I was doing some research into which online store I could use to buy some back issue trade paperbacks at reasonable prices and CheapGraphicNovels stood far and above the competition. Not only did they have an awesome selection of trades available, but their prices were unbelievable! Brand new trades at 30, 40 & 50% off! The shipping is very reasonable, fast, and the books are always well packed and arrive un-damaged.
That alone would ensure my custom, but what really keeps me coming back is the customer service. The man in charge of the online orders is Max, and as long as he is working at Pulp Fiction, I will continue to buy from there. He is 100% committed to his customers and has always provided me personally with the best customer service. So here is the man himself, take it away Max!