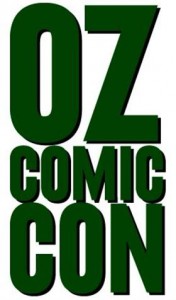 When you think of 'comic books' what is the first thing that comes to mind?
A quick survey around my work office revealed that for the vast majority of my non-nerd colleagues, 'comic books' meant everything from specific characters, Spider-man, Superman, Batman etc, to common comic book tropes like 'nerds', 'cartoons', 'Big Bang Theory', 'superheroes' & 'creative'.
When I then asked which country they most associated with 'comic books', every person responded with 'America' or 'U.S.A.'.
This didn't surprise me, and I'm sure it doesn't surprise you either.
It is perfectly understandable that to the general public, 'comic books' = America. They have been the dominant force in comic books for many years. But other countries do of course also have their own comic industry; France, U.K., Japan & Australia to name a few.

In fact, the Australian comics industry is rich with passionate and talented creators. Australian comics are reaching a level of popularity and appreciation that they have never seen before and as such are reaching audiences around the world. Whether that be on the world's largest digital store comiXolgy (Paul Bedford's The List, Jason Franks' The SixSmiths etc), by winning prestigious Awards (Ben Templesmith, Ben Hutchings, John Dixon etc), or producing acclaimed work for international markets (Tom Taylor, Nicola Scott, Colin Wilson* etc). Australian comic creators are making their presence known, and nowhere is that more apparent than at the various conventions held around Australia, especially at Oz Comic-Con.

As their name suggests, Oz Comic-Con love comics, and ensure that at every event they put on they take the opportunity to showcase as much Australian and International comic talent as they can by featuring the largest range of Australian comic book guests of any convention in Australia.
In their past years they've featured a great number of comic creators, including the one and only Stan Lee! But this year they have an even bigger number of Special Guest comic creators and over 90% of them are Aussies! Not only is that an amazing ratio, it doesn't even count the heap of awesome creators you'll find in Artists Alley. This is a huge amount of Aussie talent on show and is a great opportunity for their existing and future fans to meet them, purchase their wares and maybe even get a sketch!

And for prospective comic creators, Wolfgang Bylsma, the Editor-in-Chief of Gestalt Publishing, will be present at the event and will be completing portfolio reviews for budding comic artists. Gestalt is Australia's leading independent graphic novel publishing house, and the portfolio reviews are a wonderful opportunity for those interested in the illustration and comic industry to have their work looked at by a respected publisher. Joining Wolfgang at Oz Comic-Con Melbourne will be some of the talented artists published by Gestalt, including Andrew Constant (Torn, Broken Line) and Justin Randall (Changing Ways).

Australian Comic Creators are some of the most talented in the world. Their output encompasses the whole range, from sci-fi, to drama, to superheroes, to comedy and Oz Comic-Con is the perfect place to check them out. We never miss a show, and neither should you.
For a full list of the Comic Creators at this year's Oz Comic-Con, check out their site and purchase your tickets now.

* Note: Technically Colin is from New Zealand, but I believe he now resides in Australia, and he is awesome so I wanted to include him here.