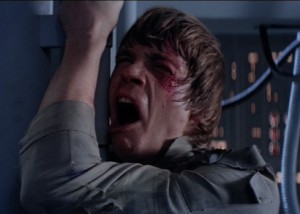 The Walt Disney Company has announced that it is purchasing Lucasfilm (including Industrial Light & Magic & Skywalker Sound) in a stock and cash deal for just over $4 billion. During what will no doubt now be thought of as a historic conference call, Walt Disney CEO Bob Iger and Star Wars creator and Lucasfilm CEO George Lucas announced that the deal came with  'an extensive and detailed treatment for the next three movies' and that their 'longterm plan is to release a new Star Wars feature film every two to three years', meaning that Episodes VII, VIII & IX are on their way. In fact Episode VII  is aparantly in early development and scheduled for release in 2015. However, Fox and Paramount will retain the rights to the previous six Star Wars films and last four Indiana Jones films respectivly.
In a statement Lucas added, 'For the past 35 years, one of my greatest pleasures has been to see Star Wars passed from one generation to the next. It is now time for me to pass Star Wars on to a new generation of filmmakers. I've always believed that Star Wars could live beyond me, and I thought it was important to set up the transition during my lifetime.'
Co-Chairman of Lucasfilm Kathleen Kennedy, will become the studio's President, reporting to Disney Studios Chairman Alan Horn. She will also be the Executive Producer on the new Star Wars films, with Lucas serving as a Creative Consultant.
Now I'm not usually the sort of person to have a strong reaction to these sort of announcements. With a few exceptions nerd rage is not my prefered form of expression (just don't mention the Spider-Man storyline Sins of the Past or the film Prometheus to me and we'll be ok), but I have to admit that upon hearing the news that the evil corporate behemoth that is Disney Studios had bought Lucasfilm, the home of two of my all time favourite film franchises, I did feel a disturbance in the Force.
Luckily I was at work when I heard, so my initial reaction was muted, and it gave me time to reflect. It also gave me time to read the additional information as it came to light. What I've come to realise is that I'm actually not that concerned with this announcement. Sure, I can't stand the Disney Corporation and all that is stands for but that doesn't stop me from enjoying (some) of their products and I can't deny that (some) of their recent acquisition related output has ranged from quite good (The Muppets) to outstanding (The Avengers) so I can at least give them the benefit of the doubt.
And lets face it, the last 3 films under total Lucas's control ranged from 'crap' to 'average' so a new fresh pair of eyes may be just what we need. I've always thought that Lucas was the creative genius behind Star Wars but that it took other people to help bring his vision to life and that is what we have now with his new role as Creative Consultant. And let's not forget the most important aspect of this – EPISODE VII !!! (as long as it doesn't turn out like this: