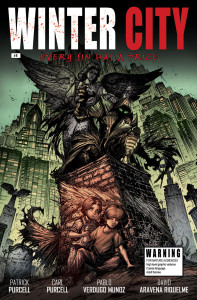 The creative team behind one of Australia's most critically and commercially successful comic book series, Winter City, is moving towards an ambitious 'Creator Owned' publishing model and announces their first Creator Owned title – Left Hand Path!
With the outstanding success of the Winter City series, and the anticipation building for the upcoming all-age series, Mechanical Knight, the Winter City Productions team feel that their high quality output, experience and media reach will prove to be an invaluable opportunity for Australian independent creators. Their ultimate goal is to help elevate the international reputation of the Australian comic book scene.
In relation to the company's new publishing direction, Winter City Productions founder Patrick Purcell said, "There is an incredible amount of artistic and literary talent in Australia but all the talent is failing to achieve the success it deserves due, in part, to a lack of direction. By sharing our marketing, production and editing experience, we hope to change the face of Australian comic books. We aspire to convert a niche scene into a thriving and viable industry. We want to show Australian comic book readers that Australian books can be just as exciting and entertaining as any international production".
Left Hand Path is by Jason Franks & Paul Abstruse and tells the story of the Unconventional Incidents Unit (UIU) as they are called in to investigate a bloody massacre perpetrated by a demon who is loose on the streets of Los Angeles. Jason is a veteran of the Australian comics scene, with his books The Sixsmiths and McBlack to name a couple, and his excellent first novel Bloody Waters was short-listed for the 2012 Aurealis Award for Best Horror Novel. Paul is a well regarded artist in the Australian scene and also a tattooist. He has worked on his own projects as well as for international studios like Zenescope Entertainment.
Winter City Productions will officially announce Left Hand Path in the lead up to this year's Supanova Expo Sydney (June 13-15) and the first issue will be available in print at the event. Also available at Supanova will be the next instalment of the Winter City series and the debut issue of Mechanical Knight!
And all aspiring comic creators should head to the Winter City Productions home page for submission and publishing guidelines: www.wintercityproductions.com. This is a great opportunity that shouldn't be missed.