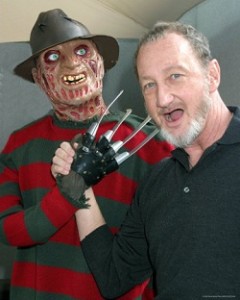 Freddy and Jason: A Nightmare on Elm Street star Robert "Freddy Krueger" Englund and Veronica Mars' Jason Dohring join the all-star guest list at Oz Comic-Con Melbourne
One of horror's biggest stars, Robert Englund, has set his sights on Australia and is heading Down Under to stalk the crowds at Oz Comic-Con Melbourne. Joining Englund in his takeover of the mammoth pop-culture event is small-screen star Jason Dohring, adored for his role as bad boy Logan Echolls in the cult-hit series Veronica Mars.
Best known to audiences as Freddy Krueger, the dream-haunting villain in the A Nightmare on Elm Street series, Englund has appeared in a wide variety of other films including Urban Legends. Englund has also undertaken extensive voice acting work, voicing characters in such animated shows as Justice League, The Batman and The Spectacular Spider-Man.
Dohring won the hearts of a legion of fans as the sarcastic and volatile love interest of the titular character in Veronica Mars and reprised the role in the 2014 Veronica Mars movie, which was funded by fans through Kickstarter. He also appeared in the television show Moonlight, a vampire romance series with a devoted following.
Oz Comic-Con Melbourne attendees will have the chance to take part in professional photograph and autograph opportunities with both Englund and Dohring, with Englund posing for photos while donning a razored fingered glove — the infamous weapon worn by his terrifying on-screen alter ego. Both Englund and Dohring will also be joining lucky fans at exclusive dinners on July 5. Seats to each dinner are limited and in demand, with tickets to dine with Englund already sold out. Only ten seats are available at the table with Dohring, so those wanting to dine with the star should act fast to secure their ticket.
Among the celebrity guests previously confirmed for Oz Comic-Con Melbourne include Richard Dean Anderson (MacGyver, Stargate SG-1); Kristian Nairn and Daniel Portman from Game of Thrones; Tom Skerritt, star of Alien, Top Gun and Picket Fences; and his Alien co-star Veronica Cartwright.
Oz Comic-Con Melbourne will take place on July 5-6 and will feature a wide range of fun activities for attendees to enjoy, as well as a host of other film, television, animation and comic book guests. Tickets to the convention are available to purchase now through http://www.showclix.com/event/3808852, with a wide range of ticketing options available.
For more information, please visit www.ozcomiccon.com.