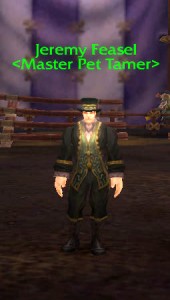 During the Darkmoon Faire, aspiring Battle Pet Trainers can do a daily fight against Master Trainer Jeremy Feasel for the chance of getting a Darkmoon Eye pet (amongst other things).
This guy claims he is the best, and he can be a challenge, especially his pet Fezwick, but with my strat he is actually a bit of a push-over 🙂
Pets Needed:
Slot 1. Infinite Whelpling : Tail Sweep, Healing Flame, Early Advantage
Slot 2. Any Shale Hatchling : Burn, Poison Spit, Stone Rush
Slot 3. Rocket Chicken : Missile, Toxic Smoke, Launch
Notes: Any Shale Hatchling is fine, but it's Speed must be > 280 & any Mechanical with anti-Beast attacks is fine, but it is vital that its Speed is > 294
Strat:
Judgement – Start with the Infinite Whelpling and spam Tail Sweep. It should only take 3 attacks to kill Judgement. Then when Honky Tonk swaps in throw down an Early Advantage and then swap to your Shale Hatchling.
Honky Tonk – Stone Rush, Burn, Burn. If at any time Shock and Awe stuns you, swap the Whelpling back in for a round and then back to the Hatchling.
Fezwick – Throw in a Poison Spit if you can then swap to your Mechanical. Toxic Smoke, and then spam Missile to victory.
Good luck getting the Eye!