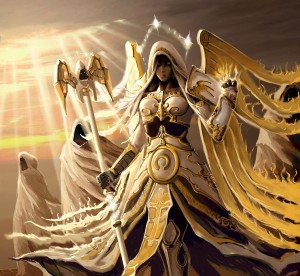 Conviction's original purpose was to create a cycle of healing, dealing, and preventing damage. This cycle continues and flourishes in 5.2, so long as the Priest has a good amount of Spirit, Mastery, and Crit %.
Click here to see the spec on WoWHead
Thankfully, with the new talents there have been some new great additions to this spec. For example, Void Tendrils can remove some melee enemies from you for a few precious seconds, and while using the Holy Fire/Smite combo with Glyph of Smite (which increases Smite damage during the Holy Fire DoT effect), the Void Tendrils are healed from damage dealt due to Atonement! Also, Divine Star is a great way to deal and heal damage, as whenever it critically heals, it creates an absorption shield on those that were in its path. Also, Penance has a new added effect of giving you a cast of your Shield even if you are under the effect of Weakened Soul, along with Smite casts having a 15% chance for a free and instant Flash Heal.
Also, Atonement will still be your best friend, healing or possibly even giving you a damage prevention shield while you deal damage to your enemies. Train of Thought will also help you to throw more damage around, using Smite to reduce the cool down of Penance.
AoE can have some tense moments with this spec, but there are several spells that will help in such situations. Void Tendrils will help to keep their distance from you, and Psychic Scream will help as well once they break the roots (if they even get that chance due to the healing from Atonement). Power Word: Shield should be kept up as much as possible to help keep you healthy. If things start to get really hairy, then Pain Suppression will alleviate a good amount of the damage. Plus, as stated above, Smite will be allowing the use of free and instant Flash Heals, which also brings up Divine Aegis which creates a free shield when there is a critical hit. And Angelic Bulwark gives a player an absorption shield if they are reduced below 30% of their life for those just in case emergencies.
As for the Major Glyphs of Power Word: Shield and Reflective Shield, these help the cycle of healing, damage and prevention as well. Power Word: Shield converts 20% of the shield into a heal, so as to make sure that your health is further kept up, but be sure if possible to make use of that heal or its wasted (unless its a critical heal that procs Divine Aegis). Reflective Shield forces those that would do you harm to feel some of their own damage. All in all, this spec is very similar to where it was, but I feel it has more utility due to the addition of Void Tendrils and Divine Star, which have helped my Priest in numerous occasions and made this a very powerful spec.