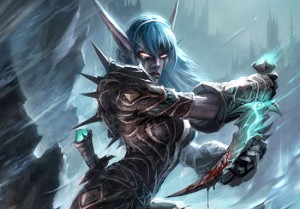 Here is my latest WoW Yoda spec for all the Rogue fans out there – Blood Spatter.
http://www.wowhead.com/talent#ff0fZZfhcfdu0MGo:mVM0kdmcz
This spec is designed to make your enemy bleed out all of their hit points as quickly as possible.
Start off with either your Ambush or your Garrotte (if the enemy is a caster), followed by using your Hemorrhage to force the enemy to bleed more, and for a higher percentage of their health. After that, you will want to use your Rupture when you have five combo points. Following your Rupture, you will want to continue using your Hemorrhage on the enemy and at five combo points, use Execute, this way your Serrated Blades refreshes for the full duration of your Rupture. With Coup de Grace and Glyph of Eviscerate, a ton of damage will be dealt.
However, if you have the luck of having a tank with you, or a PvP opponent that seems to enjoy presenting their back to your blades, then you will want to use your Backstab instead of Hemorrhage (except 1 time, because you always want to use Hemorrhage at least once to gain the 30% extra bleed damage).
Also, to improve your survivability (as you all know I like to do whenever possible), I have included Quickening and Deadly Momentum. The reason why Preparation wasn't included, is because I personally would rather use 1 talent point where it could be used better than reducing 2 cool downs that are already very small, and 1 other cool down that doesn't need to occur more often than its cool down allows already.
Poisons differ, depending on if you are doing PvP, instances, or PvE. For PvP, I would recommend using Crippling and either Deadly or Mind Numbing to help survivability. For instances, I would suggest Instant and a Deadly. Lastly, for PvE, you could easily go with two Instants, since enemies should die fast enough that Deadly won't have time to do its damage fast enough.
Have fun and make your enemies bleed!