Welcome to Behind the Counter, our series that showcases the great comic and nerd culture shops around Australia the World!
That's right, for this instalment of Behind the Counter we're heading across to New Zealand, to spotlight their #1 store – Gotham Comics!
Crystal and I visited Gotham Comics during our recent trip to New Zealand and as soon as I arrived I new I had exactly what I was looking for 🙂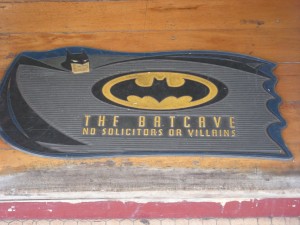 The store wasn't huge, but it was chock full of everything a comic fan would love. We got to chatting to the man behind the counter and what was going to be a 5 minute look around turned into an awesome conversation with a really interesting guy. I am of course referring to Michel, the gentleman kind enough to not only answer my questions for this post, but also regal us with stories of his wresting (as Liger – impactprowrestling), artistic ambitions (check out his great stuff on deviantart) & experiences at conventions. He was very cool and I cannot thank him enough. He also has probably the coolest business card you will ever see – check it out at the bottom of this post!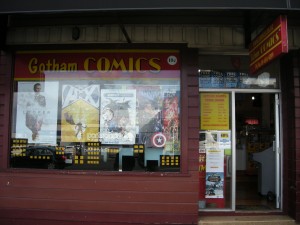 On with the questions!
When did you first open?
Gotham Comics opened in August of 1997 just down the road from where we are currently located in Onehunga, Auckland. After a couple of years, we moved to the current location and we have been here ever since.
What compelled you to enter the comic shop industry?
Tony Gibson, the man who started Gotham Comics, previously had worked for another comic book store who's owner was a Marvel fan and would only ship in Marvel titles.
Tony, being a lover of all comics, left and decided to start Gotham Comics to cater to all types of comics from all types of publishers.
Unfortunately, Tony Gibson passed away in November of 2001. His partner at the time, Lynda, decided to keep the store going in his memory.
What makes your store unique?
What makes Gotham Comics unique is that we pride ourselves on one of the largest varieties of comic books in New Zealand. We are big supporters of the independent publishers as well as the 'Big Two.'
The staff here will not only talk to you about comics, if you're of the creative bent, we'll talk to you about creating comic books too. We've published a few anthologies over the years through the store and welcome and nurture anyone's passion to create comics.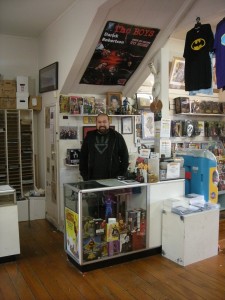 What do you like most about your job?
What I like most about my job is that it doesn't feel like a job. I'm surrounded by artistic inspiration and things I love everyday so I never feel like I'm at 'work.'
What do you dislike most about your job?
What I dislike about my job are late shipments and missing items. Living in the ass end of the world, Diamond don't give a crap about sending our shipments late or incomplete or just plain damaged. It's not like we can easily send the items back without paying an arm and a leg.
Also, sometimes it's funny but constant questions like 'Who will win out of a fight: Superman or Night Thrasher?' can be really annoying (Editor's Note: Neither, Aunt May all the way!)
What do you think is the future of comics?
With the leaps and bounds in technology now, it's no surprise that digital comics are taking off. They'll always be mint condition, they're convenient and easy to carry around.
But I don't think they'll ever fully replace the traditional comic book. Well, not in my life time anyway.
I think what Marvel have been doing is ahead of the curve, supplying a free download code with a purchase of a hard copy is a great incentive. People can buy the comic, bag and board it straight away and then read and enjoy the comic book on a digital platform.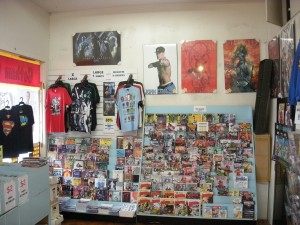 Do you have any favourite comics?
My favourite comic book character is Green Lantern. Specifically Hal Jordan. I fell in love with the character when I bought the Kenners Super Powers action figure as a kid. I instantly fell in love with the look and costume of the character.
As I started reading Green Lantern comic books, I also fell in love with the concept and the powers of the character. Being someone who loved to draw and create stuff, seeing a character with the ability to make his ideas real with constructs really appealed to me.
Geoff Johns' Green Lantern stuff over the last few years has been a huge highlight for me and definitely some of the best stuff being written at the moment.
What are you reading right now?
At the moment, I'm reading Green Lantern, of course. Also at the top of my reading pile are Batman, Ultimate Comics Spider-Man, The Walking Dead, Invincible, Chew, Before Watchmen stuff, Uncanny X-Force, and Avengers vs X-Men (kinda have to read it to be in the know.)
There's a whole tonne of other titles I haven't listed 'cause every week is like Christmas but these are the main ones I can think of.
Any future plans you want your shoppers to know about?
Gotham Comics will be at Armageddon Auckland on October 19-22 where we will be hosting the international comic book guests. We'll also have our own Free Comic Book Day on the first Saturday of December!
I myself, will be in Melbourne next week during Armageddon Melbourne. Feel free to come up and say hi if you see me 🙂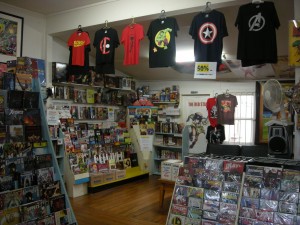 Some really cool answers there. I totally agree about what Marvel is doing with their issues.
Thanks again to Michel for being gracious enough to talk to us and answering my questions. I'm really glad they're part of our series and if you're ever in beautiful New Zealand, check out Gotham Comics!
Name: Gotham Comics
Proprietor: Jeremy Bishop

Address: 264 Onehunga Mall, Onehunga, Auckland, 1061, New Zealand  (Google Maps)
Phone: +64 9 634 4399
E-mail: gotham@comics.co.nz
Web: www.comics.co.nz
Facebook: www.facebook.com/gothamcomics
And as a special bonus, here is Michel's awesome business card. If you need any art done, drop him a line!