Welcome to Behind the Counter, our series that showcases the great comic and nerd culture shops around Australia.
For this instalment we're heading interstate, to showcase Sydney's premier comics shop – Kings Comics!
We are so excited to have Kings be a part of our Behind the Counter series and huge thanks to Stephen Ford for taking the time to write these awesomely detailed answers to our questions. Seriously, he went all out and it's a great read.
With 26 years in the industry, Kings Comics needs no introduction (but I'm going to anyway :)). Kings Comics are Sydney's most well known nerd culture based store, with strong ties to the community by their participation in such programs as the National Year of Reading 2012 'love2read' program, and are the recipients of prestigious awards like the 1996 Will Eisner Spirit of Comics Retailer Award & the 2012 Diamond Comic Distributors Best Practices Award (for best Graphic Novel Section).
Even though I always check out their giant booth at every convention I attend, so far I've only visited the Kings Comics store once (I live in Melbourne) and it was an interesting experience. When I asked the concierge for directions to Pitt Street she immediately asked if I was going to Kings! When I asked how she knew that she said that quite a few guests ask for the same directions and she now knew the directions by heart! When I arrived at the store I was very impressed. They have an awesome statuette section (a personal love of mine) that comprises most of their front window and cool signage that just draws you in. After drooling over the cool statuettes that I wanted I entered and was again impressed by the great layout. I'd never been there before, but I almost immediately knew where everything was, and anything I couldn't find was pointed out to me buy the very helpful and friendly staff person. Great stuff.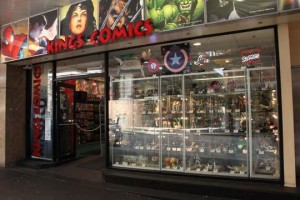 Take it away Stephen!