Welcome to Behind the Counter, our series that showcases the great comic and nerd culture shops around Australia.
For this instalment we're back to Geelong, Victoria with the great guys from Popcultcha.
I've never been to the store itself, but while researching them I was blown away by their awesome website and Facebook page. They update the site regularly and are constantly posting, keeping their loyal customers informed and entertained.
They have a great range, and I even found something to buy for myself! I found a cool X-23 vs Lady Deathstrike diorama and had to have it! (I'll post some pics of it tomorrow :)). It was actually on their Ebay store, so don't forget to check that out too. Seriously, check out their website, you'll definitely find something you'll want, and you can't beat free shipping anywhere in Australia.
Jase from Popcultcha was good enough to answer my questions and supply some photos, and even models for us in one of them!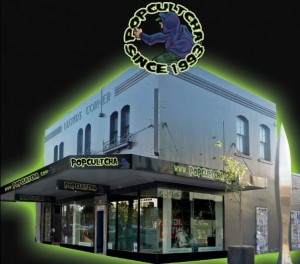 Take it away Jase!
When did you first open?
We are a Geelong based store that opened up in 1993 as a trading card store called Card Mania. Since then we have grown and started expanding our product range from Trading Cards to Statues, Action Figures, Books, Comics, Designer Toys and much more. We then relocated to a larger store, still in Geelong, and rebranded our name to Popcultcha.
What compelled you to enter the comic shop industry?
I have only been working at the store for the past year and a half and it was my love for anything gaming that compelled me to this industry. Anything from video games, board games and even card games that we sell at Popcultcha are what made me want to work at this fantastic place. Not only that, I love pretty much everything we sell here and talking to all our customers about what game they might be playing or what comic they might be reading at the moment is always great fun.
What makes your store unique?
I would say that the range of products we sell here is what makes us unique. From high-end collectables to soft plush toys, books and comic books, there is sure to be something here for everyone and all age groups.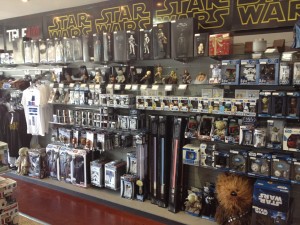 What do you like most about your job?
The thing I like most about my job would be the great people I get to meet and talk to every day who share a lot of the same passions and interests as me.
What do you dislike most about your job?
The only negative I can think of would be that I spend most of my money on the stuff we get in because a lot of it is too good to turn down.
What do you think is the future of comics?
I think there will always be a market for comics because although a lot of people are getting digital copies these days, you will always have the market for people that can't go without the hard copy. Nothing beats holding the actual comic book in your hands.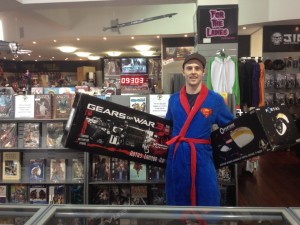 Do you have any favourite comics?
I'm not a huge comic reader but I do love anything super hero related, both Marvel and DC. I have also started getting into The Walking Dead comic series, after watching the TV series I got hooked and have continued the story with the comic books.
What are you reading right now?
I am currently reading The Walking Dead Volume 11 and loving it.
Any future plans you want your shoppers to know about?
We normally run colouring competitions over the school holidays so if you are a local you should definitely get down and check it out. The second week of these school holidays we will be running Adventure Time colouring comps and handing out prizes. We also have an online store that we offer free postage anywhere in Australia if you spend over $100 and we attend all the Supanova events each year so make sure to check out our stand at the next one. You can also check us out on Facebook where we are always having a bit of fun and post regularly.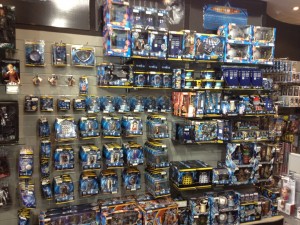 A huge thanks to Jase for taking the time to answer my questions and take some photos. Pop culture fans of Geelong are certainly spoiled for choice down there. And I totally understand his comment about the perils of working in such a cool store. I couldn't do it, I'd never have any money left!
And as I said, check out their website. Or if your around the area drop into their superstore. You wont be disappointed, (but your credit card might be :)).
Name: Popcultcha
Address: 124 – 128 Moorabool Street Geelong, Victoria  (Google Maps)
Phone: 1300 586 291 or +61 3 5229 1992
E-mail: info@popcultcha.com.au
Facebook: www.facebook.com/Popcultcha
Twitter: @popcultcha