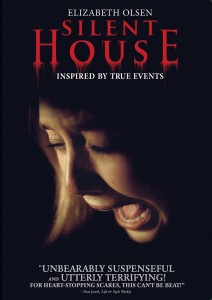 Silent House
Released: 2011
Directed by: Chris Kentis & Laura Lau
Written by: Gustavo Hernández (original film story), Laura Lau (remake screenplay)
Starring: Elizabeth Olsen, Adam Trese and Eric Sheffer
Plot: Sarah, her father and her uncle are getting their lakeside retreat ready for sale. But things take an ominous turn and Sarah finds she is unable to contact the outside world as events become increasingly freaky in and around the house.
For: A couple of scenes are well done / Elizabeth is great as always
Against: Very predictable, her father is practically drooling everytime he looks at her / 2 Directors, never a good sign! / Not even slightly scary
Favourite Scene: Sarah uses the flash to see.
Rating: 1 Luke