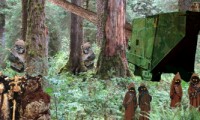 Episode #72 features:
Popcorn Junkies: We Live in Public, Much Ado About Nothing & The World's End
Contest of Champions: The Ewoks vs The Jawas

Azerothian Times: Clancy Brown & Daniel Wu join the WoW movie cast, Music copyrights in podcasts & live streaming, Blizzard dev Ron Nakada fighting cancer
Giveaway: Thanks to the awesome peeps at Madman Entertainment we're giving away a DVD copy of Much Ado About Nothing!
And a very special treat, a new Clip Show by Crystal!
Download
(right click and select Save Link As)
Shopping List
We Live in Public DVD
Much Ado About Nothing blu-ray
The World's End blu-ray
And check out Crystal's awesome Forestcrawler!