Welcome to Behind the Counter, our series that showcases the great comic and nerd culture shops around Australia.
For this instalment we're heading interstate, to showcase Sydney's premier comics shop – Kings Comics!
We are so excited to have Kings be a part of our Behind the Counter series and huge thanks to Stephen Ford for taking the time to write these awesomely detailed answers to our questions. Seriously, he went all out and it's a great read.
With 26 years in the industry, Kings Comics needs no introduction (but I'm going to anyway :)). Kings Comics are Sydney's most well known nerd culture based store, with strong ties to the community by their participation in such programs as the National Year of Reading 2012 'love2read' program, and are the recipients of prestigious awards like the 1996 Will Eisner Spirit of Comics Retailer Award & the 2012 Diamond Comic Distributors Best Practices Award (for best Graphic Novel Section).
Even though I always check out their giant booth at every convention I attend, so far I've only visited the Kings Comics store once (I live in Melbourne) and it was an interesting experience. When I asked the concierge for directions to Pitt Street she immediately asked if I was going to Kings! When I asked how she knew that she said that quite a few guests ask for the same directions and she now knew the directions by heart! When I arrived at the store I was very impressed. They have an awesome statuette section (a personal love of mine) that comprises most of their front window and cool signage that just draws you in. After drooling over the cool statuettes that I wanted I entered and was again impressed by the great layout. I'd never been there before, but I almost immediately knew where everything was, and anything I couldn't find was pointed out to me buy the very helpful and friendly staff person. Great stuff.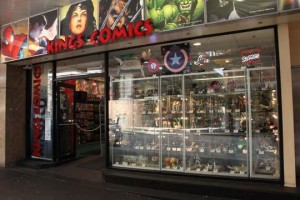 Take it away Stephen!
When did you first open?
We opened the store in 1986, in a below-street level store in Elizabeth Street, Sydney.  In 2002 we moved to our current street-level store in Pitt Street, Sydney.
What compelled you to enter the comic book industry?
That's easy – a love of comics and graphic storytelling. George Vlastaras started a mail order service as a hobby when he was a teenager. With series such as Watchmen, Batman: The Dark Knight Returns, Batman: Year One and Superman: The Man of Steel gaining huge media attention at that time it was the right time to open up a physical retail store to take advantage of the new and growing interest in comic books. It was the perfect way to expand awareness of comic books to new readers, but it also allowed us to cater to the growing long-time comic book 'collectors' who were increasingly the main focus of the comic book industry at that time.
What makes your store unique?
We have made the KINGS Comics Pitt Street store bright, colourful and inviting, especially to entice new customers through the doors.  Comic book readers & pop culture collectors head to KINGS as we carry the widest range of major and independent comics in Sydney. We also have a very huge selection of current pop culture merchandise aimed for collectors young and old – action figures, high-end statues, apparel, board games & other superhero and genre novelties.
The store is on a busy artery in the Sydney CBD, so we've taken advantage of our street level location to highlight our comic & pop culture collectibles (no comic books at all!) in our large plate glass front window.  The display definitely attracts a lot of passer-by attention and these new 'double-take' foot traffic customers then head in the doors to check out what KINGS is all about.
These new customers get a really positive initial experience about comics with our modern looking store.  The store's interior walls are covered with loads of colourful prints featuring comic book and cartoon characters–they make the store visually exciting, creating a feast for the eyes.  Add to the custom-made shop fittings which showcase our books and merchandise and you have a setting that makes new customers comfortable about entering a comic book shop.
Of course, it's our staff that is very important in keeping our customers happy from the moment they walk into the store. Their knowledge and friendliness is one of KINGS' greatest assets. They are more than happy to help customers, whether in-store, through Facebook and e-mail inquiries, or via our integrated Online Store/website. We aim to be in contact and in conversation with our customers as much as possible and the feedback we receive from them is important for us to further develop the best store we can.
I also think that KINGS is unique in that throughout the years we have focused on building awareness of the comic book industry to the general public. It's always our priority to show what a fun and diverse world of stories are available for readers to explore in comics. From OzCon in the 1990s, to currently working with online review shows like KAPOW, or our convention appearances (where we highlight comic book creators), KINGS promotes a positive and exciting future for graphic storytelling – and we're happy to share that vision in any way we can.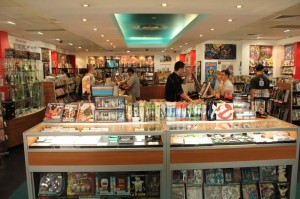 What do you like most about your job?
As a company, we really enjoy bringing graphic storytelling to customers – new and old. The comics industry is constantly changing and with it our customer base. With lots of media and genre tie-ins we're seeing a lot of new customers getting into comics for the first time. It's always a pleasure to chat and help new customers get a start into comic book reading – whether they choose floppies or graphic novels. Films like The Avengers, The Amazing Spider-Man and The Dark Knight Rises also generated a whole new interest in super-heroes in both young and adult fans. KINGS' wealth of comic & pop-culture knowledge with our staff gives these new guys and gals a very easy (and positive) introduction to comics – it's always hard when you're dipping your toe into a new medium and we aim to make it as easy as possible for all our new customers.
We also enjoy encouraging our customers to 'read' rather than 'invest'. We encourage customers to follow artists, writers, characters and genres – we want them to have fun with this hobby, not constantly thinking about how much the latest comic book is going to be worth in 10 days or 10 years.
What do you dislike most about your job?
This follows on from the last answer. We dislike that some publishers, retailers and customers focus on the 'investment' side of comic book collecting. We encourage reading, but unfortunately there seems to be a rise in the short term speculator market. Short term speculators can gouge new readers for ridiculous amounts of money on hot or key issues, giving them a very negative impression of comic book collecting – fortunately these collectors are in the minority these days.
Other than that, hey – we work in a comic book store.  BEST JOB EVER!!!
What do you think is the future of comics?
We think that physical comics are going to continue to survive, and currently sales are thriving on major event-driven series (DC's New 52/Avengers vs X-Men), crossover genre books (Walking Dead, Star Wars, TMNT) and the gaming focused tittles (Mass Effect, Halo).  Digital sales continue to rise sharply, but if anything digital comics are bringing graphic storytelling to a vast new readership – and we're seeing that that a large proportion of that new readership is moving into physical books at the moment. Digital comics are creating new ways for stories to be told with enhanced content and visual effects, but at the moment, trade paperback sales continue to remain strong and we feel that this will continue for quite some time.
Comic book stores are well placed to take advantage of the increase of comic-related merchandise. Sales in this area continue to grow, so we think that comic shops will evolve to cater to the increasing number of fans interested in comic collectibles – especially the new fans of the current crop of super-hero films looking for retail outlets which offer super-hero related merchandise.
The comic book is still a tactile medium for most readers and collectors and it will probably be a generation down the track before customers prefer the digital over physical. A triple page comic book foldout has an impact that can't be replicated on a computer or a tablet.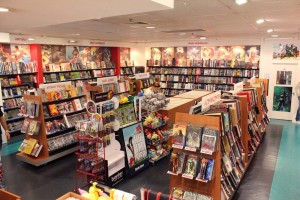 Do you have any favourite comics?
Some of my favourites would have to be Brian Azzarello's 100 Bullets, Joe Hill's Locke and Key, Grant Morrison's The Invisibles, Warren Ellis' Planetary, Robert Kirkman's The Walking Dead, Alan Moore's V for Vendetta and League of Extraordinary Gentlemen, Mike Baron & Steve Rude's Nexus series, James Robinson's Starman series, Mike Mignola's Hellboy, Brian K Vaughan's Y The Last Man and anything by Ed Brubaker (Scene of the Crime, Criminal, Incognito, his Captain America and Daredevil runs).
What are you reading right now?
Personally I would have to say that I'm enjoying everything by Scott Snyder (Batman, American Vampire), Image series Mind the Gap, James Robison and Nicola Scott's Earth 2, Brian K Vaughan's sci-fi fantasy mash-up SAGA, Brian Wood's post-apocalyptic The Massive, new horror series from Image Revival, John Layman's Chew, Mark Waid's current Daredevil run and Ed Brubaker's Fatale. But there's so much more I can recommend at the moment – the range of books out there is the best it has been for years.
Any future plans you want your shoppers to know about?
We're continuing to upgrade our online store with addition of more back catalogue products and more shopping options. In-store, we're expanding our range of titles and merchandise and improving the store fixtures in our city store. We're going to continue to attend pop culture events across Australia to meet new fans – taking the KINGS mini-store to shows such as Armageddon and Supanova allows us to have a very personal connection to our customers even though our Sydney store may be thousands of kilometres away! Of course we're gearing up to a bigger and better Free Comic Book Day in May 2013 and we're going to increasingly promote Aussie titles through in-store signings and e-newsletter and social media promotions.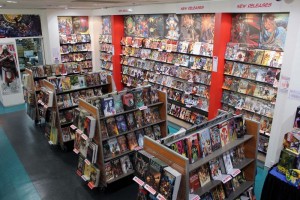 Thanks again to Stephen for his awesome answers. They really do help illustrate why Kings Comics is one of the premier nerd culture stores in Australia. So when you're next in Sydney, check 'em out, or if you can't make it there, check out their awesome website and up to date Facebook page. They'll be more than happy to help you find what you're after.
Name: Kings Comics
Proprietor: George Vlastaras
Address: 310 Pitt Street, Sydney, NSW 2000  (Google Maps)
Phone: +61 2 9267 5615
E-mail: info@kingscomics.com
Web: www.kingscomics.com
Facebook: www.facebook.com/Kings-Comics
Twitter: KingsComicsAU