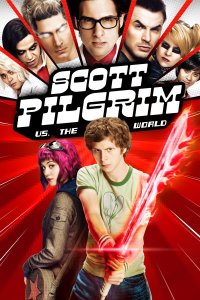 Hey everyone! I'm back! I'm sorry that I didn't have a review for you last week, but I decided to take a break for the week for Christmas. I hope you all had a great Christmas and New Year!
Scott Pilgrim vs. The World is a great movie. The visual effects are appealing to many different audiences, but it is mainly focused on those who grew up with video games. The visuals make the movie feel like a trip back to the 80's and early 90's with the humor of the present time. The humor is pretty funny, but it's more about laughing at Scott's awkwardness.
The cast does an amazing job as their roles. Michael Cera plays as Scott Pilgrim, Mark Webber as Steven Stills, Alison Pill as Kim Pine, Johnny Simmons as Young Neil, Ellen Wong as Knives Chau, Mary Elizabeth Winstead as Ramona Flowers, and Kieran Culkin as Wallace Wells. Also, Chris Evans makes an appearance as one of Ramona's Seven Evil Exes. Each of the actors does an excellent job portraying their roles. Michael usually plays timid characters so this is a , and Kieran Culkin plays Wallace Wells, Scott's gay, sarcastic, and casually drunk roommate excellently.
The music in the movie is catchy, and awesome! I actually know how to play one of the songs. However, the reason that I did not give it a perfect score, is because of the fact that it's not actual jokes, it's just the way some of the lines are given and acted out that makes it funny. I understand that that's an odd reason, but I feel like if a few of the lines were actual jokes, and were acted out or said in the same way, I'd enjoy the humor a lot more. So, I'd say that if you're into visually appealing movies with awesome fight scenes, great music, and excellent acting, then this is a movie that you need to watch immediately. With these factors, plus the addition of the pee bar when Scott uses the bathroom, I'm giving Scott Pilgrim vs. The World 4 Lukes.