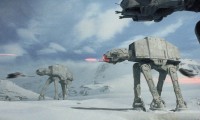 Lucasfilm have put the kibosh on Mike Koehler and AT-AT For America's dream of building a life sized replica of an AT-AT walker (all 23 metres of it) in Oklahoma USA.
Mr Koehler was been given the green light by online fundraiser Kickstarter to begin collecting cash to realise his dream, but now that Lucasfilm have vetoed the project Koehler will be returning all donations.
Mr Koehler wrote the following on his blog, "Long story short, I can no longer solicit any kind of support for the AT-AT for America project in its current form. Seeking financial donations to build a piece of Lucasfilm intellectual property goes far beyond what is considered proper." Mr Koehler was quick to defend Lucasfilm, "I don't want my mistakes to make anything think they are the bad guy in this. I didn't think ahead and have as firm a plan as I should of. And again, for that I am very sorry."
However, there is still (A New) hope. Mr Koehler plans to continue speaking with Lucasfilm and starting again, either with the same project or something similar, "I think there is something that can be rebuilt from this." Fingers crossed they can come to an accord. Maybe this will spark a demand for an entire Star Wars theme park!