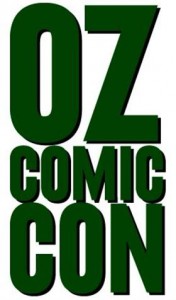 Hold onto your hats pop culture fans in Adelaide & Perth, 'cause Oz Comic-Con is only 3 weeks away!
The fun begins in Perth on Saturday 9th March and Sunday 10th March 2013 at the Perth Convention and Exhibition Centre and them goes to Adelaide on Saturday 16th March and Sunday 17th March 2013 at the Adelaide Showgrounds.
Richard Dean Anderson will appear alongside Captain James T. Kirk himself – William Shatner – making Oz Comic-Con the must-attend event of the year!
There is a great range of ticket options, and all are selling fast. In fact the VIP tickets for Adelaide are already sold out! Great work Adelaide fans! The tickets range from General Admission ( available through Ticketmaster) through to Platinum and Ultimate Experience tickets (available at www.ozcomiccon.com).
For William Shatner or Richard Dean Anderson fans, the Experience or Ultimate Experience tickets are a must. Experience tickets guarantee a photo and autograph, along with reserved seating at an exclusive panel, and priority weekend entry. Ultimate Experience ticket holders get all that, PLUS an exclusive meet and greet on Saturday evening with Mr Shatner or Mr Anderson!
Joining Shatner and Anderson are Patricia Quinn (Rocky Horror Picture Show), Jason Momoa (Game of Thrones, Stargate Atlantis and Conan), Star Trek's JG Hertzler and Robert O'Reilly (Gowron!) & J August Richards (Angel) – alongside a growing list of international and local film, TV, animation, voice over and comic stars, including Nicola Scott (Wonder Woman) & Mathew Clark (Nightwing).
Alongside celebrity appearances, Oz Comic-Con will also feature exclusive film screenings, an array of exhibitors and retailers selling unique collectibles and rare merchandise, comic books and anime, gaming demonstrations and Cosplay competitions (a unique type of performance art in which participants don costumes to reflect cultural ideas and concepts, often from Japanese popular fiction).
Oz Comic-Con 2013 is brought to Australia by DCA Enterprises – the Sydney-based company also responsible for The Hub Productions' intimate popular culture events (www.thehubproductions.com). Oz Comic-Con made its debut in 2012 to record-breaking crowds in Adelaide and Melbourne, drawing numbers over 50,000, and the 2013 tour (which includes Perth, Adelaide and a return visit to Melbourne in July) looks set to surpass 2012!
Oz Comic-Con is an event like no other – and definitely not to be missed. For full details visit www.ozcomiccon.com.
Cya there!