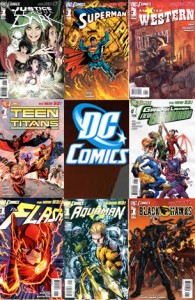 Welcome to our final audio review for the New 52, covering the last week of releases.
It's been a massive undertaking but I've really enjoyed analyzing all of the titles and judging them on the virtues as stand alone comics, but also as brand new #1 introductions to the characters and their new universe.
There have been some hits (Batman, Animal Man, All Star Western), some misses (Dark Knight, Blackhawks, Hawk & Dove), and some utter rubbish (Catwoman, Red Hood, Voodoo), but overall a decent bunch of titles.
What is more important is the stab in the arm this event has given the industry. As of this writing, Justice League #1 is on its 3rd printing and some of the other titles have exceeded 200,000 copies. Something almost unheard of for a long time.
As before, this is the unedited version of our coverage from the podcast, featuring the opinions of the entire crew that had to be cut from podcast to reduce its length.
Due to the long length of the recording I have split it into 2 parts for your convenience.
After listening to the review, how about leaving a Comment or send send us an email at feedback@nerdculturepodcast.com? We would love to read your opinions, especially now that we've finished.
Track 1 – Audio Length: 58 mins
Track 2 – Audio Length: 57 mins