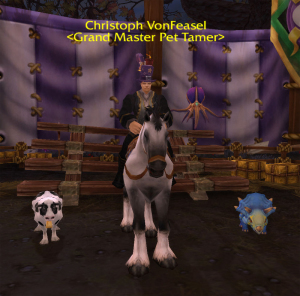 During the Darkmoon Faire, aspiring Battle Pet Trainers can do a daily fight against two Master Trainers for prizes and fame. My guide for Jeremy Feasel can be found here.
Here is my guide for his companion, Christoph VonFeasel.
Pets Needed:
Slot 1. Any Fox : Flurry, Howl, Dazzling Dance
Slot 2. Iron Starlette : Windup, Powerball, Supercharge
Slot 3. Leveling Pet  (or Elekk Plushie if going for the Achievement)

Notes: Any Fox is fine, but it's Speed must be > 270
Strat:
Syd – Start with the Fox and Dazzling Dance. Then Howl. Then spam Flurry until Syd dies. Mr Pointy will come in.
Mr Pointy – Howl. Your Fox will probably die at this point. Even if it doesn't, swap to Iron Starlette. Windup x 2. Mr Pointy dies. Swap to your Leveling Pet as Otto comes in.
Otto – Do not attack with your Leveling Pet. Immediately swap back to Iron Starlette. Windup then Supercharge. Finish with Windup for victory.