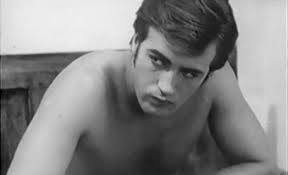 Kobra Films is pleased to announce the acquisition of The Set (1970).  Based on a book by Roger Ward (Mad Max, Turkey Shoot), The Set was the original Australian sex film that shocked a nation with its honest and frank depiction of Australia's then changing sexuality.
The Set graced the front pages of national newspapers for over a year, mainly due to Hazel Phillips, TV personality and Gold Logie winner, appearing naked in the film. The Sydney Morning Herald, in their review, when as far as to personally attack her and judged her for being in the film. That, and its down-to-earth depiction of homosexual relationships; the act of homosexual sex, at the time, was still illegal in every state and territory in Australia. The film went on to be condemned across all of the national's mainstream press, but it did find praise in underground publications:
The Set has been unavailable in any format for over 45 years, Kobra Films is proud release it to DVD in late 2015 with a wide array of bonus content.
Synopsis
The Set revolves a young working-class man who sells shirts at a Sydney department store, Paul Lawrence (Sean McEuan), dreams of going to art school. When his girlfriend Cara (Julie Rogers) leaves for London, Paul becomes the protégé of renowned designer Marie Rosefield (Brenda Sender). Marie belongs to 'the set', an upper-class clique whose members include Mark Bronoski (Denis Doonan), an influential artist. Bronoski commissions Paul to design a set for flamboyant British stage director John L Fredericks (Michael Charnley). Helping Paul is Tony Brown (Rod Mullinar), a handsome student who is dating Paul's cousin, Kim Sylvester (Bronwyn Barber). As Paul becomes part of 'the set', he begins a homosexual relationship with Tony. Meanwhile, Kim's mother, Peggy (Hazel Phillips), is bored with her marriage and has an affair with Bronoski. As the deadline for the set approaches, Paul starts to question his values and those of his new friends.
Before Alvin Purple, Number 69 or even The Naked Bunyip, there was The Set.