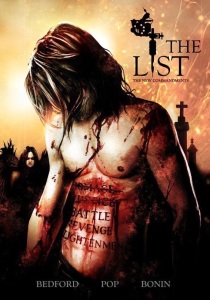 Under Belly Comics have just launched a Kickstarter to release a beautiful limited edition hard cover of Paul Bedford's The List – The New Commandments, complete with a brand new cover by Vincent Sammy.
We at NCP love Aussie comics, and The List is a great example of them. Even if you already own the soft cover, this new hard cover is a must have.
A KILLER STALKS THE STREETS. He speaks of bearing the New Commandments… of a visit from an Angel… of being God's chosen Messenger… of a reunion in Heaven with his dead parents… His past is of no consequence. His future is bent toward the completion of his quest. Could he indeed be the bearer of the God's New Commandments, or is all he simply a madman?
Praise for The List:
"… (The List) is so much more than a simple hack and slash fest featuring gore just for the sake of gore… kept me glued to this book all the way through to its unexpected revelation…" Comicsonline.com (US)
"Bedford, Pop and Bonin deliver a masterpiece." Scaryminds.com (Aust.)
"The finale to The List was as harrowing a read as I expected from the set-up… Days later I'm still digesting the symbolism of its emotionally-charged ending." Brokenfrontier.com (UK)
"Immerse yourself into this twisted world, take that leap and do something unique. (The List) has stuck with me like a scar and trust me that is a good thing. " Morehorror.com (US)
"Bedford controls the story and the reader's access to it masterfully. If The List was a movie, you couldn't be blamed for thinking that Polanski, Kubrick or maybe even Scorsese had a hand in things." Gary Chaloner (Will Eisner's John Law; Morton Stone: Undertaker)