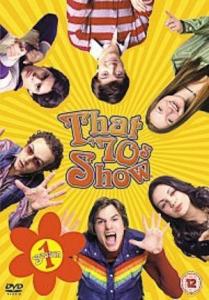 That 70's Show and I have a bittersweet relationship. I love this show…but I hate the season when Randy comes in, and the seasons after that. I'll get to why I do later in the review.
That 70's Show is a nostalgic show, especially for those who grew up in the 70's and it's a show that almost everyone knows about, due to its accessibility and reputation.
When I had first heard about this show, I was a little suspicious. It really didn't seem like my kind of humor. However, when I started watching the show, I found myself laughing at almost every joke! Kelso (Ashton Kutcher) is the idiot of the group. He provides a lot of comedy by doing stupid things, such as falling off of a water tower. Eric (Topher Grace) is the leader of the group, and he and Donna (Laura Prepon), his girlfriend, make some laughs by poking fun at the others. Fez (Wilmar Valderrama) is the literal foreigner of the group, and he is pretty creepy, which provides some humor. And finally, Jackie (Mila Kunis) is the preppy girl pf the gang, and personally I never liked her in the series. It has nothing to do with the actress; she just isn't a likeable character. However, she was most likely supposed to be that way, so it won't influence my rating.
As mentioned above, this show is great until the character Randy (Josh Meyers) comes in. I don't like his character, because I feel like he just doesn't fit in with the rest of the group like Eric did. He is meant as a replacement for Eric, (Editor's Note: Grace was off filming Spider-man 3), however he isn't right for the group. He seems like he should be more of a stand-alone character, kind of like Leo. The bad thing is, he gets the most screen time in the last season.
The rest of the show is so funny, and great for the most of its run. The actors and actresses do an amazing job, and a lot of the characters are hilarious both when they're with the group, and when they're out of the group. So I highly recommend you watch this series as soon as you can! I give That 70's Show 4 Lukes.