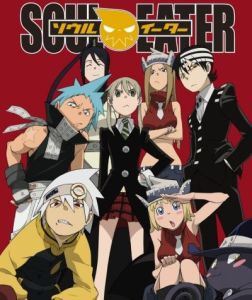 Soul Eater is an anime about a school that teaches kids about responsibility, respect, honor, friendship. They also learn how to kill monsters using the corresponding Soul Wavelengths of their friends to turn into weapons of death to fight with. Simple right?
This anime is a lot of fun, but it also has a few serious moments as well. It captures what it feels like to have immense power, but not always know what you can do with it. It also shows the feeling of driving into madness with no brakes, except for help from the ones who love you.
The main characters are divided into three groups of pairs. The only exception to this is Death the Kid's team, which has three people. Maka and Soul make up the first team, Black-Star and Tsubaki make up the second team, and Death the Kid and Liz and Patty Thompson make up the third. Maka and Soul's story is mainly about them trying to collect 100 souls and a witch's soul. Black-Star and Tsubaki's story is about how Black-Star grows from someone obsessed with themselves, to someone who loves and cares for his friends. Death the Kid and Liz and Patty Thompson's story is mostly filler for the rest of the story. However, even with their story, you can't help but want to see more of their story. In fact I don't think there was enough of their story.
The action scenes in this anime are amazing! It has a very dark, yet fast-paced feel to it. The Soul Resonance attacks left me in awe of the power of the wielders of the Death weapons.
A lot of the anime is filler episodes, where they have to go on missions to collect souls. But even though they are obviously filler episodes, you feel like it contributes to the actual storyline.
There is almost no romance in this series, which surprised me, as most anime or TV shows in general have some sort of romance. I could only find one scene in this entire series that is somewhat romantic. This shifts the focus onto the friendship between a Weapon Meister and a Weapon itself. Something like that doesn't really happen, but when it does, it's one of the most memorable relationships in a series I've seen, (much like with Morgan and Garcia from Criminal Minds). It makes you happy, even content with the relationship, and you stay interested in the relationship because you want to see if romance becomes involved with it.
I have only one problem with this anime. I won't spoil anything for you, but the ending is rushed. It happens way too fast, and seems sloppy. This anime is really good, but the ending is just too bad for me to give it a high rating like I want to. So, I give Soul Eater 3/5 Lukes.