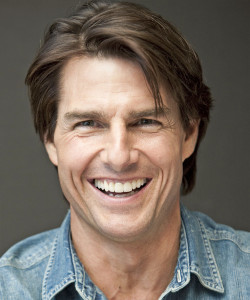 Welcome to my latest Spotlight On article, this time featuring the films of Tom Cruise.
I decided to do this series for a couple of reasons. I had a day off from work thanks to the Queen Lizzie's Birthday so I decided to spend it watching some movies.
I started with Edge of Tomorrow and then went home to watch a couple others. The intention was to pick at them at random, but when I was finished I was surprised to find that they were both Tom Cruise films (Vanilla Sky & Mission: Impossible).
It would be easy to think that this seemingly random event was simply because Mr Cruise currently has 37 acting credits to his name, and I own most of them, but I assure you it was completely random, and it actually brings me to my second point. I like Tom Cruise.
Now, I know that's not a popular thing to admit. The general populace (or at least those people who care about that sort of thing) are quick to to dismiss Mr Cruise as everything from a complete weirdo to a religious nut (he is a devout Scientologist). But isn't a man's religious beliefs his own affair, regardless of that religion? And the Oprah couch jumping scene was 9 years ago (May 2005 in fact). Yeah, it was a little weird, but haven't we all done weird stuff when were in love? Surely it's time to move on.
There is something about him that even his detractors find hard to deny- the man is a Movie Star. Charisma, good looks, a million dollar smile, and yes, even acting ability, Tom Cruise has everything a Hollywood star needs. I may not agree with his ideology, but I do enjoy his films.
After supporting roles in Endless Love (1981)(1 Luke), Taps, (1981)(2 Lukes) and The Outsiders (1983)(2 Lukes), Tom had his first top billed role in the otherwise forgettable Losin' It (1983)(1 Luke), a teen sex comedy that also starred Shelly Long and Jackie Earle Haley. But 1983 also saw the release of high school football drama All the Right Moves (1.5 Lukes), as well as the film that made him a star, Risky Business (3 Lukes). A classic teen movie about a young man who needs to make some serious money fast and uses a questionable way to do it. Co-starring the lovely Rebecca De Mornay, Risky Business not only helped the sales of Ray-Bans sun glasses skyrocket, it also has the scene that served to announce Cruise to the world, the scene where Joel dances to 'Old Time Rock N' Roll' (which was improvised by Tom on the spot, the script simply said 'Joel dances to rock music').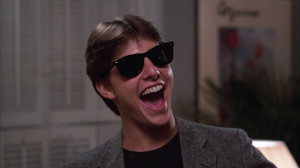 Then, after the misstep of Legend (1985)(1 Luke), Cruise rocked the cinema going world in adventure/drama Top Gun (1986)(1 Luke). It's easy to understand his involvement with the terrible Legend. He was young, and who wouldn't want to work with Ridley Scott? But despite that film's dismal box office return, he managed to bounce back with the male fantasy/power trip from late director Tony Scott. As Navy Jet Pilot Maverick, Cruise lived the ultimate male fantasy, fast planes, loose women, 'the need for speed' etc, and made a killing at the box office (it was the highest grossing film of 1986). Risky Business was his calling card. Top Gun made him a SuperStar.
I'm not a fan of it myself. Much has been written about the possible subliminal homo-eroticism (especially by Quentin Tarantino), and it's blatant use as a Navy recruitment film (Navy recruitment rose by 500% after this was released!), but to be honest the reason I dislike it is simply because I think it is boring and because it is one of the films that helped shape the Michael Bay style of film making that exists today.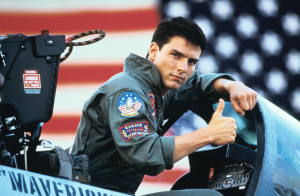 That same year he also appeared opposite the legend Paul Newman in the sequel to The Hustler (1961), The Color of Money (2 Lukes). Cruise does a decent job alongside the always great Newman and it is one of director Martin Scorsese's weakest efforts, but it is enjoyable enough. He followed that shortly after with the completely forgettable Cocktail (1988)(0.5 Lukes), co-starring with Australia's own Bryan Brown. That same year he also worked with Dustin Hoffman on the very good Rain Man (3.5 Lukes) (or as Hoffman jokingly called it, 'Two Schmucks in a Car'). Cruise gives a great performance as a self-centered automobile dealer/hustler/bookie and Hoffman deservedly won that year's Best Actor Oscar. But the following year Cruise starred in the film that I believe proved once and for all that he could act, Born on the Fourth of July (4 Lukes). Based on the story of Ron Kovic, a paralyzed Vietnam war veteran who feels betrayed by the country he fought for and becomes an anti-war/pro-human rights political activist, and directed with his usual style by Oliver Stone, Born on the Fourth of July is one of Mr Cruise's finest acting achievements and is an intensely harrowing performance.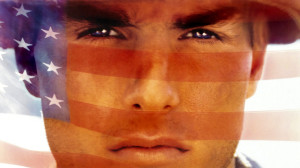 It's no surprise then that he chose some lighter fare for his next 2 films, the bad but enjoyable Car Racing drama Days of Thunder (1990)(2 Lukes) & period drama Far and Away (1992)(2 Lukes). His Days of Thunder (often referred to as Top Gun with cars) love interest is Australia's own Nicole Kidman, whom he later married. They would go on to star together in their next film as 1893 era Irish immigrants in the enjoyable family friendly Far and Away, and again in 1999 with Stanley Kubrick's Eyes Wide Shut (2.5 Lukes) before divorcing in 2001. Eyes Wide Shut is a polarizing film, and I can understand why, but it is Kubrick at his most experimental, and was one of his personal favourites. I highly recommend seeing it at least once.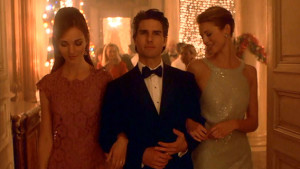 1992 also saw Cruise's return to the military with A Few Good Men (2 Lukes), opposite an on fire Jack Nicholson. However, despite some great scenes, including the brilliant confrontation between Cruise's Lt. Daniel Kaffee and Nicholson's Col. Nathan R Jessup, the film is a bit dull. He continues the law theme with enjoyable The Firm (1993)(3 Lukes), this time opposite a couple of my favourite actors Gene Hackman & Ed Harris. But then Cruise appeared in a film that can easily be described as The Firm's polar opposite, Interview with a Vampire (1994)(4 Lukes). Based on the bestselling novel by Anne Rice and directed by Neil Jordan, Cruise plays Lestat de Lioncourt, a French vampire who seduces and turns the vulnerable Louis (Brad Pitt) into a vampire in order to have a companion. Every performance in this film is excellent, with none more so than the then 12 years old Kirsten Dunst in her film debut. Like most, Rice was shocked to hear of Cruise being cast as Lestat, but she took it a bit further by publicly damning the choice. However, after attending a screening she wrote him a letter of apology, praising his portrayal.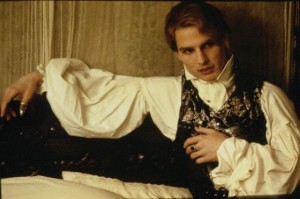 His next film however saw him return to the more action man role he is known for, his labour of love Mission: Impossible (1996)(3.5 Lukes). Directed by Brian De Palma and based on the cool 60's TV show of the same name, MI would become a career staple for Cruise and lead to a further three outings as Agent Ethan Hunt, the awful Mission: Impossible II (2000)(0.5 Lukes), Mission: Impossible III (2006)(3 Lukes) & Mission: Impossible: Ghost Protocol (2011)(4 Lukes), with a fifth film in pre-production now.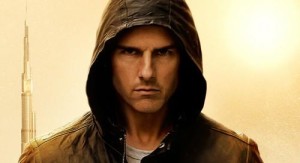 Continued in Part 2