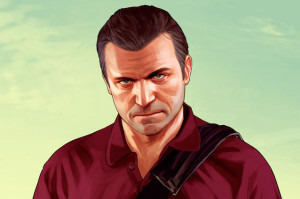 Grand Theft Auto V, is the best GTA ever made, plain and simple. You play as three characters: Michael DeSanta/Townley, Franklin Clinton, and Trevor Philips. Personally, I believe the best character is Michael, but I can be a little biased sometimes. I was curious to see what Michael was like in person, so I travelled to Los Santos to ask him a few questions and see what he's all about.
Me:  Thank you for allowing me into your home, it's beautiful! Can I ask you a few questions?
Michael:  You're welcome and thank you! You can ask, but I'm not sure if I can answer all of them or not.
Me:  Did you always have money and wealth?
Michael:  No, I grew up very poor and I lived in a trailer park.
Me:  Can you tell me about your early life?
Michael:  My dad was an abusive drunk who left when I was young. I played football during my high school years, but quit due to frequent injuries and getting into trouble with the law. Now, I'm a fat, has-been football player.
Me:  When did you first start committing crimes?
Michael:  Fresh outta high school, baby. I had nothing going for me, college was for losers, and I was good at robbery. I had to do something with my life, even if it was bad decision after bad decision.
Me:  Which is your favorite vehicle to steal?
Michael:  I personally like to drive around in a tank. You can drive through the streets with worrying about traffic, you just roll right over it all! <laughs>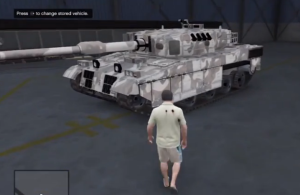 Me: What makes a criminal settle down with a family?
Michael: I met Amanda and fell in love. Well, at least I thought it was love. We had two kids and now our marriage is awful. I miss the days of crime and being on the run.
Me: Why did you fake your death?
Michael:  Why do you ask questions that have no answers?
Me: Has Trevor Philips always been a raging psycho?
Michael:  Yes, he had a worse upbringing than I did.  Killing and robbery relaxes him in some weird way.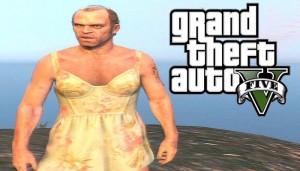 Me:  Why did you choose to live in San Andreas / Los Santos area?
Michael:  San Andreas is full of all kinds of people. I felt that I would blend in with all of the crazies and weirdos. I've got to admit, it's a little more than I can handle sometimes!
Me:  What's a cement kick board?
Michael:  Would you like to find out?
Me:  Um, no……..
Me:  What's your favorite food?
Michael:  A Fluffernutter sandwich.
Me:  What's that?
Michael:  Only the best thing on this crazy planet. Spread peanut butter on one piece of bread, marshmallow cream on the other and then combine the two.  It's heaven on Earth!
Me:  Tell me about your family, if you would.
Michael: My wife is a cheating basket case, my son is a video game playing psycho, and my daughter is extremely friendly with every man she meets. I'm a fat mobster who wishes his life was normal, but normalcy does not exist in San Andreas.
Me:  What's going on with your movie career?
Michael:  I made a movie called Meltdown. I'm interested in making more movies, but I need a reliable cast and crew.
Me:  Thank you again for the interview!
Michael:  Welcome, I'm outta here!