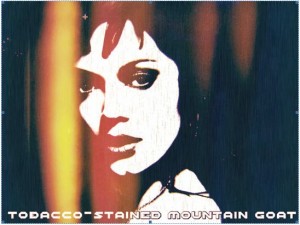 NCP Regulars are well aware of my love for the writing of Mr Andrez Bergen so they'll understand and forgive me for the following outburst;
Tobacco-Stained Mountain Goat is being made into a Graphic Novel!!!!!
Okay, now that I have that out of my system, down to the facts. 🙂
Tobacco-Stained Mountain Goat, the critically-acclaimed 2011 tale of a near-future noir/dystopia gets a huge sequential art treatment — with new plot twists included!
Tobacco-Stained Mountain Goat was a novel first published in 2011 that proudly wears on its sleeve the influences of writers Raymond Chandler, Dashiell Hammett, Neville Shute, Philip K. Dick, Ray Bradbury, Graham Greene, and… filmmakers Satoshi Kon, Carol Reed, John Huston and Akira Kurosawa. Now the author of TSMG, Andrez Bergen (also the writer of Who is Killing the Great Capes of Heropa? along with the Tales to Admonish and Black/White comic-book series, and an artist in his own right) is assembling a 130+ page sequential art version of Tobacco-Stained Mountain Goat, set to be published at the end of July 2014. He will be doing both art and text.
It is an essential yarn that rolls in together a wealth of cultural influences and pop-culture nuggets with a noir tale of love, betrayal, corporate violence and intrigue — set in near-future, last-city-on-earth Melbourne.
If that isn't enough to get you excited then read the back-cover spiel:
"Cut to Melbourne, Australia — the most glamorous city in the world. It also happens to be the only one left standing, but nevermind that, we're there now and I'd like you to meet your narrator, a certain Floyd Maquina, a likeable chap with one hell of a story to share. See, the powers that be are knuckling down on the Deviant menace that plagues the city, and our boy Floyd's unknowingly got himself in the thick of it. Cue guns, intrigue, kidnappings, conspiracy and all sorts of general mayhem that make for cracking good headlines.
Does Floyd stop the bad guys? Does he get the girl? Does he make Humphrey Bogart proud? Grab some popcorn and read on."
The comic book adaptation, while touching upon similar territory as the novel — with key characters Floyd and Laurel — will also feature brand new plot content, including material from Bergen's other books.
Also, it will include behind-the-scene tidbits, pin-ups by other artists, and Hylax and Webley-Fosbery collectibles!
Now, to get this awesomeness head on over to the Tobacco Stained Mountain Goat Graphic Novel Kickstarter page and pledge. Not only can you get this GN, but other great goodies as well, including the chance to be immortalized in a future comic project!
Please check this out. It's a great project and deserves all the assistance it can get.