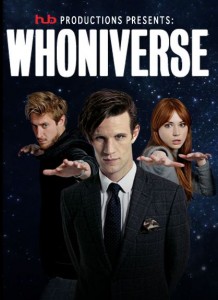 If you're a Doctor Who fan (and let's face it, you probably are!) then you'll want to know all about The Hub Productions' Whoniverse event!
Thanks to The Hub Productions, Matt "The Doctor" Smith, Karen "Amy Pond" Gillan and Arthur "Rory Williams" Darvill will be touring Australia's major cities in early March and for the first time in Australia, fans will be given the opportunity to encounter a modern-age Doctor in the flesh!
So Whoniverse is an amazing opportunity for fans of Doctor Who to see the stars of the show and even get up close and personal in an awesome not-to-be-missed setting.
Tickets are available from Ticketek now, and come in a variety of packages and price ranges to suit every fan, including the much sought after Gold and Silver packages (which include professional photograph and autograph opportunities with the stars) and Reserve tickets to see the stars live on stage.
Full details can be found HERE, including the opportunity to buy the tickets. Don't miss out, and say Hi if you see us there!