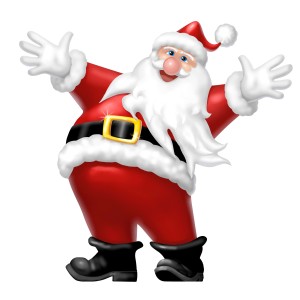 In the spirit of the Christmas season I travelled up to the North Pole to interview the one and only Santa Claus.
I left Raleigh-Durham International Airport about 6:15am and arrived at the North Pole about 10:30pm the same night. Santa himself was there to greet me with some yummy cookies and hot chocolate!
Me: Thank you for agreeing to do this interview.
Santa: Oh, ho, ho, you're very welcome!
Me: What's it really like in the North Pole?
Santa: It's cold pretty much all of the time and there's nothing but snow and ice. To stay warm, most people have blubber and layers of clothes. But when it's Summer the temperature reaches about 32 degrees and to me it's a heat wave! All year long (when not on vacation) everyone gets a surf board, rides the snow waves and lounge by the ice block with an eggnog shake in hand.
Me: Do reindeer really know how to fly?
Santa: My reindeer know how to fly, but I don't know about others. I feed my reindeer a special diet consisting of eggnog and reindeer chow. My reindeer are also on a vigorous routine of flight training all year until Christmas Eve.
Me: What is the best cookie that you've ever eaten?
Santa: That's a tough answer to give!
Me: On this plate, there are three of your favorite cookies. We have Chocolate Chip, Oreo, and Sugar Cookie.
Santa: Jolly jelly beans, so many choices! (Santa eats each cookie with a big glass of milk). My favorite cookie is Sugar Cookie! I'd love if everyone would leave Sugar Cookies and milk for me!
Me: You've seen lots of kids over the years, who do you remember the most?
Santa: When Kratos was about 6 years old, he sat on my lap and cried for a while. I explained to him that I'm a nice guy, but he peed on my lap. I felt so bad for him that I gave him a coupon for one free toy of his choice.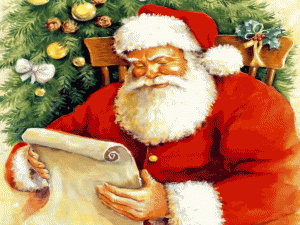 Me: How do you fit into chimneys?
Santa: Magic, it's what I'm all about.
Me: Has an adult ever sat on your lap to ask for a Christmas gift or two?
Santa: Just last year, Donkey Kong made a visit to the local mall and sat on my lap. While my leg was not supportive of monkey weight, I listened to him while he asked for bananas and vengeance on Mario.
Me: Is your castle made of candy and cookies?
Santa: Oh, ho, ho! I wish it was, but I would probably be bigger than the whole North Pole! My castle is your normal brick and wood, but with an eggnog river in the backyard.
Me: If you were not Santa, what would you do for a career?
Santa: I would be a cake decorator! I love to bake and decorate, it's so relaxing.
Santa: Do you really have a list of all the good/bad boys and girls?
Me: Yes, I do! My elves and Mrs. Claus help me maintain a database of good/bad girls and boys. Griselbrand if you're reading this article, you're on the naughty list!
Me: What advice do you have for kids to stay on the "good" list?
Santa: Listen to your parents and teachers! Don't be like Chandra Naalar and set Santa's workshop on fire because she did not get a 10 speed bike for Christmas!
Well, there you have it! Santa is your normal guy that loves to bring cheer and happiness to all.
From all of us at Nerd Culture Podcast, we wish you a happy and safe Christmas!