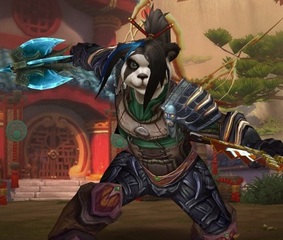 This is my latest Monk spec, Bushido. I used this spec on my Windwalker Monk from level 70 and up to take down my opponents. (I will post my hilarious level 1 – 69 long range Sniper spec another day).
Click here to see the spec on WoWHead
This spec is all about keeping yourself at maximum health for as long as possible, by constant healing, preventing damage or just all out redirecting it. For this purpose, Glyph of Expel Harm is a must. Also, I love Chi Torpedo and getting to use it 3 times in a row with Celerity is hilarious (especially since it can be directed in all of 8 directions instantly). Now as for the damage aspect, Fists of Fury was my go to for situations where I had 3-4 enemies on me at a time, mainly for the stun, since Zen Sphere could be placed on 1 enemy as well as myself followed by my pummelling with Fists of Fury (which comes with a wonderful free stun). Afterlife is a life saver since a single enemy is easily dispatched giving you a chance at having the Healing Sphere drop for you, reducing the need to bring food with you (unless you wanted cooked food it for the bonus). Once level 56 is hit, the Windwalker Monk is a true force to be reckoned with, increasing all damage dealt to nearby targets by an astonishing 20% and reducing healing received along with Tigereye Brew to increase damage dealing further.
As for the survival aspect, Healing Elixirs is amazing in conjunction with Tigereye Brew or Energizing Brew to gain more life. Touch of Karma can be used on enemies up to 20 yards (thanks to the glyph) so no worries about ranged enemies pounding on you while you are taking down melee opponents. Ascension will give you the opportunity to have more uses of your chi required abilities. If the enemies around you start to bog you down after the Touch of Karma has worn off, feel free to perform a Leg Sweep, stunning all of your melee enemies, then roll to that pesky ranged enemy and beat the tar out of them, or use Storm, Earth and Fire to take him out while still attacking the melee enemies. So many choices so little time!
Sparring will also help to keep damage away from you, even further with the Glyph, which adds the negation effect to spells as well. If you have already used up all of your Chi Torpedoes and need to cover more distance, use Flying Serpent Kick to make the rest of the distance to the ranged enemy (especially for PvP of course, since Chi Torpedo already covers a good range) and also deal some damage as well as slow them down (which is also great in the PvP setting for flag carriers, who probably aren't looking behind them!).
All in all, Bushido will instil the way of the warrior in you, granting enough power and discipline to take on any manner of foe!