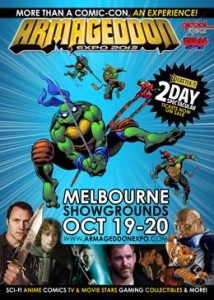 Armageddon Expo is not far away and I am getting more excited every day!
Armageddon is always a highlight for me. They have been running in Melbourne since 2007, and I have attended every one!
This year will see the event move to the Melbourne Showgrounds and allows for more space for all the awesome booths and guests.
And you can buy your Autographs and Photos tokens online and avoid a huge chunk of the queues (which is an awesome idea)!
Event general admission tickets are now on sale through www.ticketek.com.au. VIP tickets are also available and the Gold Passes are nearly sold out, so get in quick!
Of course I can't finish this post without mentioning some of the great guests Armageddon have lined up this year. Here is just a few, with many more on their website – armageddonexpo.com
Kevin Eastman – Co-Creator of the Teenage Mutant Ninja Turtles
Dan Slott – Writer of Superior and Amazing Spiderman
Brent Anderson – Artist on Astro City
Evanna Lynch – Luna Lovegood in the Harry Potter films
David Morrissey – The Governor in The Walking Dead
Billy Boyd – Pippin the Hobbit in The Lord of the Rings trilogy
Norman Lovett – Holly in Red Dwarf
Richard Hatch – Battlestar Galactica (classic and new series)
Ian McNeice – Winston Churchill – Doctor Who
Kari Wahlgren – Kung Fu Panda, Avengers and more