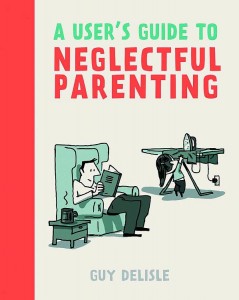 For my review this week I am looking at A User's Guide to Neglectful Parenting by Guy Delisle.
This is a different comic then the normal, Marvel, DC or Image title.This is a collection of short and sharp stories which have a newspaper comic strip feel to it but never fear this is no Fred Basset rubbish (I don't know anyone who finds Fred Basset funny, if you are a fan I would like to hear from you).
A User's Guide to Neglectful Parenting contains a number of different stories revolving around a dad and his son and daughter. The comic is divided into a number of stories based on a few different parenting themes. My personal favourite is called The Easter Bunny which involves the father telling the son about the Easter Bunny with the story ending with the father laughing out loud at how ridiculous the idea of an Easter Bunny is.
I read the majority of the book while waiting in an appointment room and I had some genuine laugh out loud moments.
I really love the angle that Guy Delisle has gone with in this book. He has taken what is a very serious topic (parenting) and put a hilarious spin on what not to do. While not a parent myself I imagine that dads and mums would really enjoy reading this.
The art style is very simple but effective. Some of the facial expressions of the dad are brilliant.
I give A User's Guide to Neglectful Parenting 4/5 Lukes – One of the most enjoyable new reads I have had in a long while. I highly recommend checking this title out.
I would love to hear your feedback. Please comment below or you can contact me via Twitter @bennykane1983.
My next review is going to be a mystery review. On my next trip to All Star Comics I will ask one of the guys to pick a title for me that I have not read and I will review it for you fine folks.
Enjoy your comic reading!
Benny