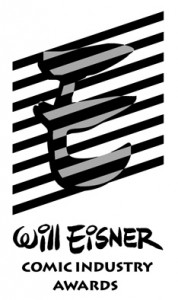 This years Will Eisner Comic Industry were announced yesterday at SDCC and I for one wasn't surprised that Saga nailed it. It is a great series and deserves all the praise it gets.
I'm also pleased by the recognition for David Aja's work on Hawkeye. Brilliant stuff.
But congratulations to everyone, the winners and nominees. This was a great selection this year, and everyone deserved to win.
Click More for the full list of nominees. All winners (including some ties!) are in bold.
Best Continuing Series
Fatale, by Ed Brubaker and Sean Phillips (Image)
Hawkeye, by Matt Fraction and David Aja (Marvel)
The Manhattan Projects, by Jonathan Hickman and Nick Pitarra (Image)
Prophet, by Brandon Graham and Simon Roy (Image)
Saga, by Brian K. Vaughan and Fiona Staples (Image)
Best New Series
Adventure Time, by Ryan North, Shelli Paroline, and Braden Lamb (kaboom!)
Bandette, by Paul Tobin and Colleen Coover (Monkeybrain)
Fatale, by Ed Brubaker and Sean Phillips (Image)
Hawkeye, by Matt Fraction and David Aja (Marvel)
Saga, by Brian K. Vaughan and Fiona Staples (Image)
Best Writer
Ed Brubaker, Fatale (Image)
Matt Fraction, Hawkeye  (Marvel); Casanova: Avaritia (Marvel Icon)
Brandon Graham, Multiple Warheads, Prophet (Image)
Jonathan Hickman, The Manhattan Projects (Image)
Brian K. Vaughan, Saga (Image)
Frank M. Young, The Carter Family (Abrams ComicArts)
Best Writer/Artist
Charles Burns, The Hive (Pantheon)
Gilbert Hernandez, Love and Rockets New Stories, vol. 5 (Fantagraphics)
Jaime Hernandez, Love and Rockets New Stories, vol. 5 (Fantagraphics)
Luke Pearson, Hilda and the Midnight Giant, Everything We Miss (Nobrow)
C. Tyler, You'll Never Know, Book 3: A Soldier's Heart (Fantagraphics)
Chris Ware, Building Stories (Pantheon)
Best Penciller/Inker (tie)
David Aja, Hawkeye (Marvel)
Becky Cloonan, Conan the Barbarian (Dark Horse); The Muse (self-published)
Colleen Coover, Bandette (Monkeybrain)
Sean Phillips, Fatale (Image)
Joseph Remnant, Harvey Pekar's Cleveland (Zip Comics/Top Shelf)
Chris Samnee, Daredevil (Marvel); Rocketeer: Cargo of Doom (IDW)
Best Short Story
"A Birdsong Shatters the Still," by Jeff Wilson and Ted May, in Injury #4 (Ted May/Alternative)
"Elmview" by Jon McNaught, in Dockwood (Nobrow)
"Moon 1969: The True Story of the 1969 Moon Launch," by Michael Kupperman, in Tales Designed to Thrizzle #8 (Fantagraphics)
"Moving Forward," by drewscape, in Monsters, Miracles, & Mayonnaise (Epigram Books)
"Rainbow Moment," by Lilli Carré, in Heads or Tails (Fantagraphics)
Best Single Issue (or One-Shot)
Lose #4: "The Fashion Issue," by Michael DeForge (Koyama Press)
The Mire, by Becky Cloonan (self-published)
Pope Hats #3, by Ethan Rilly (AdHouse Books)
Post York #1, by James Romberger and Crosby (Uncivilized Books)
Tales Designed to Thrizzle #8, by Michael Kupperman (Fantagraphics)
Best Publication for Early Readers (up to age 7)
Babymouse for President, by Jennifer L. Holm and Matthew Holm (Random House)
Benny and Penny in Lights Out, by Geoffrey Hays (Toon Books/Candlewick)
Kitty & Dino, by Sara Richard (Yen Press/Hachette)
Maya Makes a Mess, by Rutu Modan (Toon Books/Candlewick)
Zig and Wikki in The Cow, by Nadja Spiegelman and Trade Loeffler (Toon Books/Candlewick)
Best Publication for Kids (ages 8-12)
Adventure Time, by Ryan North, Shelli Paroline, and Braden Lamb (kaboom!)
Amulet Book 5: Prince of the Elves, by Kazu Kibuishi (Scholastic)
Cow Boy: A Boy and His Horse, by Nate Cosby and Chris Eliopoulos (Archaia)
Crogan's Loyalty, by Chris Schweizer (Oni)
Hilda and the Midnight Giant, by Luke Pearson (Nobrow)
Road to Oz, by L. Frank Baum, adapted by Eric Shanower and Skottie Young (Marvel)
Best Publication for Teens (ages 13-17)
Adventure Time: Marceline and the Scream Queens, by Meredith Gran (kaboom!)
Annie Sullivan and the Trials of Helen Keller, by Joseph Lambert (Center for Cartoon Studies/Disney Hyperion)
Ichiro, by Ryan Inzana (Houghton Mifflin)
Spera, vol. 1, by Josh Tierney et al. (Archaia)
A Wrinkle in Time, by Madeleine L'Engle, adapted by Hope Larson (FSG)
Best Humor Publication
Adventure Time, by Ryan North, Shelli Paroline, and Braden Lamb (kaboom!)
BBXX: Baby Blues Decades 1 & 2, by Jerry Scott and Rick Kirkman (Andrews McMeel)
Darth Vader and Son, by Jeffrey Brown (Chronicle)
Naked Cartoonists, edited by Gary Groth (Fantagraphics)
Best Digital Comic
Ant Comic, by Michael DeForge
Bandette, by Paul Tobin and Colleen Coover
It Will All Hurt, by Farel Dalrymple
Our Bloodstained Roof, by Ryan Andrews
Oyster War, by Ben Towle
Best Anthology
Dark Horse Presents, edited by Mike Richardson (Dark Horse)
No Straight Lines: Four Decades of Queer Comics, edited by Justin Hall (Fantagraphics)
Nobrow #7: Brave New World, edited by Alex Spiro and Sam Arthur (Nobrow)
2000 AD, edited by Matt Smith (Rebellion)
Where Is Dead Zero?, edited by Jeff Ranjo (Where Is Dead Zero?)
Best Reality-Based Work (tie)
Annie Sullivan and the Trials of Helen Keller, by Joseph Lambert (Center for Cartoon Studies/Disney Hyperion)
The Carter Family: Don't Forget This Song, by Frank M. Young and David Lasky (Abrams ComicArts)
A Chinese Life, by Li Kunwu and P. Ôtié (Self Made Hero)
The Infinite Wait and Other Stories, by Julia Wertz (Koyama Press)
Marbles: Mania, Depression, Michelangelo & Me, by Ellen Forney (Gotham Books)
You'll Never Know, Book 3: A Soldier's Heart, by C. Tyler (Fantagraphics)
Best Graphic Album—New
Building Stories, by Chris Ware (Pantheon)
Goliath, by Tom Gauld (Drawn & Quarterly)
The Hive, by Charles Burns (Pantheon)
Unterzakhn, by Leela Corman (Schocken)
You'll Never Know, Book 3: A Soldier's Heart, by C. Tyler (Fantagraphics)
Best Adaptation from Another Medium
Chico and Rita, by Fernando Trueba and Javier Mariscal (Self Made Hero)
Homer's Odyssey, adapted by Seymour Chwast (Bloomsbury)
Richard Stark's Parker: The Score, adapted by Darwyn Cooke (IDW)
Road to Oz, by L. Frank Baum, adapted by Eric Shanower and Skottie Young (Marvel)
A Wrinkle in Time, by Madeleine L'Engle, adapted by Hope Larson (FSG)
Best Graphic Album—Reprint
Cruisin' with the Hound, by Spain (Fantagraphics)
Ed the Happy Clown, by Chester Brown (Drawn & Quarterly)
Everything Together: Collected Stories, by Sammy Harkham (PictureBox)
Heads or Tails, by Lilli Carré (Fantagraphics)
King City, by Brandon Graham (TokyoPop/Image)
Sailor Twain, or The Mermaid in the Hudson by Mark Siegel (First Second)
Best Archival Collection/Project—Strips
Alex Raymond's Flash Gordon and Jungle Jim, vol. 2, edited by Dean Mullaney (IDW/Library of American Comics)
Mister Twee Deedle: Raggedy Ann's Sprightly Cousin, by Johnny Gruelle, edited by Rick Marschall (Fantagraphics)
Percy Crosby's Skippy, vol. 1, edited by Jared Gardner and Dean Mullaney (IDW/Library of American Comics)
Pogo, vol. 2: Bona Fide Balderdash, by Walt Kelly, edited by Carolyn Kelly and Kim Thompson (Fantagraphics)
Roy Crane's Captain Easy: The Complete Sunday Newspaper Strips, vol. 3, edited by Rick Norwood (Fantagraphics)
Best Archival Collection/Project—Comic Books
Crime Does Not Pay Archives, edited by Philip Simon and Kitchen, Lind & Associates (Dark Horse)
David Mazzucchelli's Daredevil Born Again: Artist's Edition, edited by Scott Dunbier (IDW)
Wally Wood's EC Stories: Artist's Edition, edited by Scott Dunbier (IDW)
Walt Disney's Uncle Scrooge: Only a Poor Old Man, by Carl Barks, edited by Gary Groth (Fantagraphics)
Young Romance: The Best of Simon & Kirby's Romance Comics, edited by Michel Gagné (Fantagraphics)
Best U.S. Edition of International Material
Abelard, by Régis Hautiere and Renaud Dillies (NBM)
Athos in America, by Jason (Fantagraphics)
Blacksad: Silent Hell, by Juan Diaz Canales and Juanjo Guarnido (Dark Horse)
The Making of, by Brecht Evens (Drawn & Quarterly)
Monsieur Jean: The Singles Theory, by Philippe Dupuy and Charles Berberian (Humanoids)
New York Mon Amour, by Benjamin LeGrand, Dominique Grange, and Jacques Tardi (Fantagraphics)
Best U.S. Edition of International Material—Asia
Barbara, by Osamu Tezuka (Digital Manga)
A Chinese Life, by Li Kunwu and P. Ôtié (Self Made Hero)
Naoki Urasawa's 20th Century Boys, by Naoki Urasawa (VIZ Media)
Nonnonba, by Shigeru Mizuki (Drawn & Quarterly)
Thermae Romae, by Mari Yamazaki (Yen Press/Hachette)
Best Painter/Multimedia Artist (interior art)
Brecht Evens, The Making Of (Drawn & Quarterly)
Juanjo Guarnido, Blacksad (Dark Horse)
Teddy Kristiansen, The Red Diary/The RE[a]D Diary (MAN OF ACTION/Image)
Lorenzo Mattotti, The Crackle of the Frost (Fantagraphics)
Katsuya Terada, The Monkey King vol. 2 (Dark Horse)
Best Cover Artist
David Aja, Hawkeye (Marvel)
Brandon Graham, King City, Multiple Warheads, Elephantmen #43 (Image)
Sean Phillips, Fatale (Image)
Yuko Shimizu, The Unwritten (Vertigo/DC)
J. H. Williams III, Batwoman (DC)
Best Coloring
Charles Burns, The Hive (Pantheon)
Colleen Coover, Bandette (Monkeybrain)
Brandon Graham, Multiple Warheads (Image)
Dave Stewart, Batwoman (DC); Fatale  (Image); BPRD, Conan the Barbarian, Hellboy in Hell, Lobster Johnson, The Massive (Dark Horse)
Chris Ware, Building Stories (Pantheon)
Best Lettering
Paul Grist, Mudman (Image)
Troy Little, Angora Napkin 2: Harvest of Revenge (IDW)
Joseph Remnant, Harvey Pekar's Cleveland (Zip Comics/Top Shelf)
C. Tyler, You'll Never Know, Book 3: A Soldier's Heart (Fantagraphics)
Chris Ware, Building Stories (Pantheon)
Best Comics-Related Periodical/Journalism
Alter Ego, edited by Roy Thomas (TwoMorrows)
ComicsAlliance, edited by Joe Hughes, Caleb Goellner, and Andy Khouri
The Comics Reporter

,

edited by Tom Spurgeon
Robot 6

,

produced by Comic Book Resources
tcj.com

,

edited by Timothy Hodler and Dan Nadel (Fantagraphics)
Best Comics-Related Book
The Art of Daniel Clowes: Modern Cartoonist, edited by Alvin Buenaventura (Abrams ComicArts)
Marie Severin: The Mirthful Mistress of Comics, by Dewey Cassell (TwoMorrows)
Marvel Comics: The Untold Story, by Sean Howe (HarperCollins)
Mastering Comics, by Jessica Abel and Matt Madden (First Second)
Team Cul De Sac: Cartoonists Draw the Line at Parkinson's, edited by Chris Sparks (Andrews McMeel)
Woodwork: Wallace Wood 1927–1981, edited by Frédéric Manzano (CasalSolleric/IDW)
Best Educational/Academic Work
Autobiographical Comics: Life Writing in Pictures, by Elisabeth El Refaie (University Press of Mississippi)
Comics Versus Art, by Bart Beaty (University of Toronto Press)
Crockett Johnson & Ruth Krauss: How an Unlikely Couple Found Love, Dodged the FBI, and Transformed Children's Literature, by Philip Nel (University Press of Mississippi)
Lynda Barry: Girlhood Through the Looking Glass, by Susan E. Kirtley (University Press of Mississippi)
The Poetics of Slumberland, by Scott Bukatman (University of California Press)
Best Publication Design
Building Stories, designed by Chris Ware (Pantheon)
Dal Tokyo, designed by Gary Panter and Family Sohn (Fantagraphics)
David Mazzucchelli's Daredevil Born Again: Artist's Edition, designed by Randy Dahlk (IDW)
Mister Twee Deedle: Raggedy Ann's Sprightly Cousin, designed by Tony Ong (Fantagraphics)
Wizzywig, designed by Ed Piskor and Chris Ross (Top Shelf)