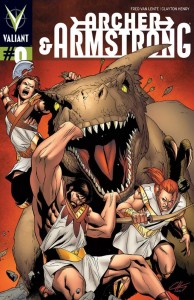 For my review this week I am looking at Archer & Armstrong Issue 0 (2013), an ongoing series published by Valiant Comics.
I started my comics reading journey at a very good time as not long afterwards, Valiant came out with the Summer of Valiant Initiative which involved the release of four new ongoing series:
Harbinger
X-O Manowar
Bloodshot
Archer & Armstrong
At the moment I am reading Bloodshot and Archer & Armstrong on a monthly basis and I must say that every issue I have read has been excellent. Great story telling and the artwork has been exceptional.
Archer & Armstrong is my favourite of the Valiant titles I have read so far.  The best way I can describe Archer & Armstrong is The Odd Couple + action + saving the world and it = awesome.
Archer is a naive teenager who has lived a very sheltered life in a religious compound.Armstrong is an immortal larrikin who loves a drink and a laugh and has been around since before AD 529. They run into each other not long after Archer comes to realise that his parents are not who they appear to be.
Issue 0 is written by Fred Van Lente with art by Clayton Henry and colours by David Baron.  The plot for this issue is a comic re-telling of the poem the Epic of Gilgamesh. While not a complete origin story the issue explains some of Armstrong's history.
I really enjoyed this issue of Archer & Armstrong. Being a one-shot of sorts it did not take long for the story to kick off and Armstrong acting as the narrator to the story was hilarious. The artwork in the issue was also of a very high quality. The landscapes were beautifully drawn and the action scenes looked great (ie, I knew what was happening).
If you are interested in reading Archer & Armstrong I recommend going back and starting from issue 1 and reading through to issue 9 then reading issue 0. That being said, this issue was great.
4/5 Lukes
If you do like this issue and are interested in reading more Valiant titles, Issue 1 of the new series Quantum and Woody (The World's Worst Super Hero Team) starts in July. So that is a good chance to start a new series from the beginning.
I would love to hear your feedback on Archer & Armstrong and any other Valiant titles. Please comment below or you can contact me via Twitter @bennykane1983.
For my next review I will be looking at Blackacre Volume 1: An Errand into the Wilderness published by Image.
Benny