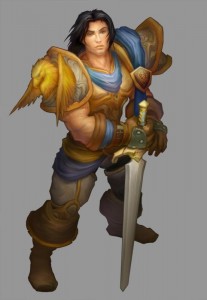 Another updated spec, this time it's for Arms Warriors, allowing the blood to flow out of their enemies' veins while keeping their own. The one thing that the Arms Warrior has to be sure of is to have a good 2 handed weapon with them at all times. This is how they deal most of their damage via Seasoned Soldier, gaining 25% increased damage. Thankfully, 5.2 has made things a bit easier with this spec, removing Rend and tying it into Mortal Strike, and allowing Mortal Strike to grant the warrior 2 uses of their signature ability, Overpower.  Also, due to the new version of Blood and Thunder (which used to be a talent requiring 3 points for this spec), Thunder Clap not only reduces physical damage dealt by enemies, but also applies Deep Wounds. Victory Rush is still your main go to ability for whenever you are low on health, however there are a few changes for the better for this spec.
Click here to see the spec on WoWhead!
One example is that I actually used to stay away from Execute. The reason was because it cost all of your rage when previously my Overpower would do approximately the same amount of damage to my enemies, due to the cutoff of 30 rage. However, Sudden Death brings new life to this skill, since both Mortal Strike is free to cast, and grants 2 Overpowers, and if an Execute is used before the Overpowers, then the Overpowers will both also be free to cast, as well as any others within a 10 sec duration (which from counting Mortal Strikes alone can be a total of 4 Overpowers due to the 6 second cool down). Blood Spiller also has a wonderful new ability granted at level 90, aptly named for the spec, Bloodbath. Every minute this ability can be triggered to give all of your attacks the effect of dealing an additional 30% more damage as a bleed effect over 6 seconds. So, what I have done for fun, against groups of 5+ enemies, is to use Thunderclap, reducing their damage and causing a bleed, followed by Bloodbath, Sweeping Strikes, and lastly Bladestorm. This combo will tear all foes around you to pieces in a matter of moments. Plus, anything that doesn't die is easily killed afterward, considering that with the Glyph of Sweeping Strikes you gain 1 rage for each enemy that was hit.
As for keeping the Warrior healthy, a few new additions have been made here as well. Disrupting Shout, Warbringer, and Mass Spell Reflection have come to join the fray, allowing the warrior to prevent spell casting (although Warbringer has to be done from afar so this will more than likely be a PvP related caster delay, unless something was done to agro a far way opponent). Second Wind is still old reliable, and has gotten better due to healing 3% at all times while under 35% hit points. This ability now also generates 50% more rage than it used to pre-5.2. Also, while at higher levels, don't forget about your Banner abilities, they can get you out of bad situations via giving the warrior additional crit chance, reducing enemy damage, or if in a party, then redirecting enemy attention to the Warrior (which I have used to actually prevent a wipe to protect a Druid during a battle Rez from getting killed).
This spec is back in action and it has blood in its eyes (not necessarily its own!).