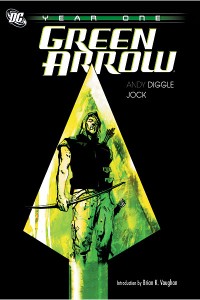 Comic Review by a Comics Newbie
For my review this week I am looking at Green Arrow Year One. With the new show Arrow starting a few months ago (which I must admit I have not watched yet) there seems to be a bit of buzz for Green Arrow so I thought I would get in on it.
I came across Green Arrow Year One a few weeks ago when the great folk at All Star Comics posted that the trade was back in print so I jumped on the opportunity and bought one for myself. I must also admit that I went into reading this with a bit of trepidation after hearing on the Nerd Culture Podcast that the Green Arrow's venture into the New 52 did not go down to well. Thankfully this series was written a few years before the New 52 (phew).
Green Arrow Year One is a limited series containing 6 issues written by Andy Diggle and Jock. You may remember these two names from my previous review of Snapshot. Green Arrow Year One is the story of how Oliver Queen goes from rich play boy with no care in the world to Green Arrow. The stories main location is a seemingly desolate island where Oliver Queen must recuperate after being left for dead in the ocean.
Andy Diggle did a great job with the story. I am not always a quick comic reader in that I usually will take a break in between issues, but this time I got through the six issues in a non-stop session lasting  just over an hour. The story was very well written and each issue kept building the story and the character of Oliver Queen. If I had been sitting on a chair while reading I would have been sitting on the edge of that chair.
The artwork of Jock was of a very high quality. A highlight in the artwork was when Green Arrow was battling with an aeroplane. Another highlight was a panel showing artistically how opium was affecting Green Arrow during his recovery. The opium related artwork reminded me of the novel Shantaram by Gregory David Roberts. If you ever get the chance I highly recommend you give it a read.
I give Green Arrow Year One 5/5 Lukes. This has been one of the most enjoyable comics I have read and definitely the most enjoyable title that I have reviewed so far.
As this was my first Green Arrow read I would love to hear any suggestions for other Green Arrow stories I should sink my teeth into, as well as any feedback you may have. Please comment below or you can contact me via Twitter @bennykane1983.
For my next review I will be looking at Archer & Armstrong Issue 0 which I am looking forward to, as I have been enjoying the Archer & Armstrong series.
Benny