For this edition of Spotlight On… I'll be covering the Best Film nominees for this years Academy Awards. That's right, I'm watching them so that you don't have to! We'll be covering winners in our Academy Awards special on episode #45 so join us then!
Note: As of this time I haven't seen Amour or Beasts of the Southern Wild yet.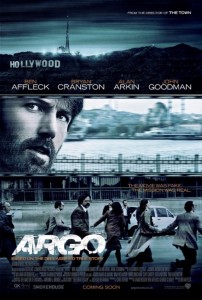 Argo
Released: 2012
Directed by: Ben Affleck
Written by: Chris Terrio (screenplay), Joshuah Bearman (article)
Starring: Ben Affleck, Bryan Cranston & John Goodman
Plot: A dramatization of the 1979-1980 joint CIA-Canadian secret operation to extract six fugitive American diplomatic personnel out of revolutionary Iran.
For: Very well directed. Affleck is a far better director than he is an actor / The Argo read through is awesome, I would love to see this actually get made (but of course it won't) / Mark steps up to the plate at the airport / Alan Arkin is awesome (as always)
Against: Not as gripping as I expected. It is entertaining but could have been so much more. For example, instead of chasing the plane down at the airport (which apparently never happened) why not just radio the plane from the tower and demand that they not take off?
Favourite Scene: The Argo read through, and every scene with Arkin.
Rating: 4 Lukes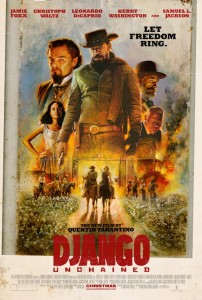 Django Unchained
Released: 2012
Directed by: Quentin Tarantino
Written by: Quentin Tarantino
Starring: Jamie Foxx, Christoph Waltz, Leonardo DiCaprio, Samuel L. Jackson
Plot: With the help of a German bounty hunter, a freed slave sets out to rescue his wife from a brutal Mississippi plantation owner.
For: Some very funny scenes / Has the usual Tarantino flair / Waltz and DiCaprio are magnificent
Against: Ridiculously over the top – typical over-blown Tarantino production / It is at least 45 mins too long / The soundtrack is unbearable / What is up with the horse dance at the end?! / Nowhere near as funny or clever as it thinks it is / Unfortunately Tarantino has reached a point that no one has the spine to tell him when he is over doing it, which this film desperately needed. It is unlikely that he will ever return to the brilliance of his earlier films.
Favourite Scene: Collecting the Bill Sharp bounty / Candie goes ballistic at dinner / Meeting Big Daddy
Rating:  2.5 Lukes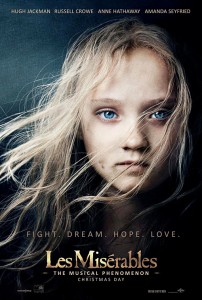 Les Miserables
Released: 2012
Directed by: Tom Hooper
Written by: William Nicholson (screenplay), Alain Boublil (screenplay) (and of course Victor Hugo!)
Starring: Hugh Jackman, Russell Crowe, Anne Hathaway
Plot: In 19th-century France, Jean Valjean, who for decades has been hunted by the ruthless policeman Javert after he breaks parole, agrees to care for factory worker Fantine's daughter, Cosette. The fateful decision changes their lives forever
For: Magnificent performance by Hathaway / Awesome set pieces / Australia's own Hugh Jackman!
Against: Pull the camera back for crying out loud. Close ups are all well and good, but what is the point of having magnificent sets if you never get to see them! / Russell Crowe can't sing / Ultimately boring / the characters played by Cohen & Carter (the Thenardiers) are painfully unfunny
Favourite Scene: I Dreamed a Dream – best scene in the film, and one of the best scenes in a musical I've ever seen
Rating:  2 Lukes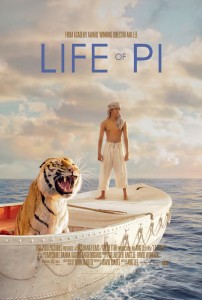 Life of Pi
Released: 2012
Directed by: Ang Lee
Written by: David Magee (screenplay), Yann Martel (novel)
Starring: Suraj Sharma, Irrfan Khan, Adil Hussain
Plot: Pi, a young man who survives a disaster at sea is hurtled into an epic journey of adventure and discovery. While cast away, he forms an unexpected connection with another survivor: a fearsome Bengal tiger name Richard Parker.
For: Visually stunning / Awesome SFX / Suraj Sharma is a revelation
Against: The guy playing the Writer (Rafe Spall) is terrible / Pi has just lost his entire family and doesn't seem all that upset about it
Favourite Scene: "I would like to be baptized." / Pi meets Anandi / the whale / Richard Parker walks into the jungle and Pi recounts how he felt
Rating:  4 Lukes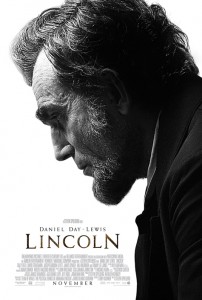 Lincoln
Released: 2012
Directed by: Steven Spielberg
Written by: Tony Kushner (screenplay), Doris Kearns Goodwin (book)
Starring: Daniel Day-Lewis, Sally Field, David Strathairn
Plot: As the Civil War continues to rage, America's president struggles with continuing carnage on the battlefield and as he fights with many inside his own cabinet on the decision to emancipate the slaves.
For: Typical Spielberg high quality production values / Daniel Day Lewis is great as always
Against: Just not very engaging.
Favourite Scene: The opening scenes / "I am the President!"
Rating:  2.5 Lukes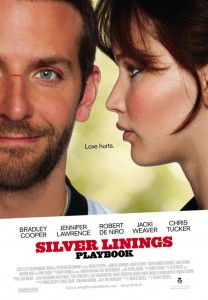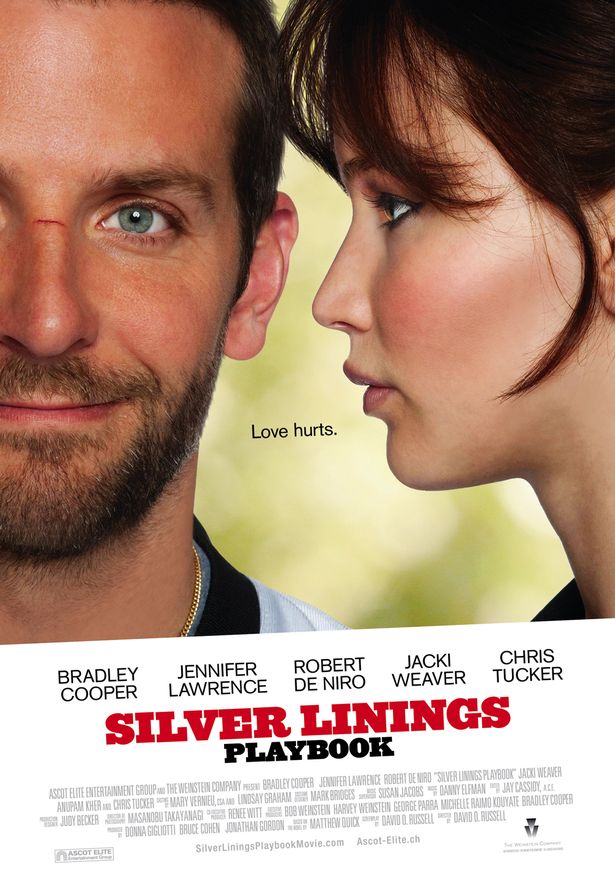 Silver Linings Playbook
Released: 2012
Directed by: David O. Russell
Written by: David O. Russell (screenplay), Matthew Quick (novel)
Starring: Bradley Cooper, Jennifer Lawrence, Robert De Niro, Jacki Weaver
Plot: After a stint in a mental institution, former teacher Pat Solitano moves back in with his parents and tries to reconcile with his cheating ex-wife. Things get more challenging when Pat meets Tiffany, a mysterious girl with problems of her own.
For: Honest portrayal of mental health / Everyone does a great job, with Lawrence a standout / Australia's own Jacki Weaver!
Against: Tiffany is almost too unlikable at the start
Favourite Scene: Pat can't find the video tape / Pat meets Tiffany / the Dance
Rating:  4.5 Lukes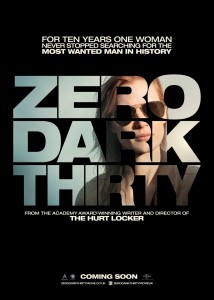 Zero Dark Thirty
Released: 2012
Directed by: Kathryn Bigelow
Written by: Mark Boal
Starring: Jessica Chastain, Joel Edgerton, Chris Pratt, Mark Strong
Plot: Deals with the decade-long hunt for al-Qaeda terrorist leader Osama Bin Laden after the September 2001 attacks, and his death at the hands of the Navy S.E.A.L. Team 6 in May 2011, from the point of view of CIA operative Maya.
For: Jessica Chastain is always good / some scenes quite dramatic
Against: Pretentious rubbish. Not as crap as the over-rated The Hurt Locker but close / How bloody stupid is Jessica? Her incompetence is mind blowing
Favourite Scene: Triangulating Abu Ahmed / Now that Bin Laden is dead, Maya realises she has no life
Rating:  1 Luke