Episode #44 features:
Dust Jacket: A Canticle for Leibowitz by Walter M. Miller, Jr
Round Table:  Steampunk

We also reveal the winner of our Totally Irreverent T-Shirt!Competition! – John Hamilton, a winrar is you!
As promised here is the pic I used for my steampunk character- Iron Justice. It is is actually a steampunk version of a Power Ranger!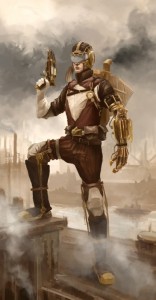 The very talented artist is Mitts and you can check out his work here – mitts.cghub.com
Mitts if you have any objection to me posting your art here please let me know and I'll remove it immediately.