It's the holidays so I have a bit of time to catch up on my film list. Oh and someone pointed out that I should call Spoiler Alert on some of these reviews. Sorry if I annoyed anyone!  🙂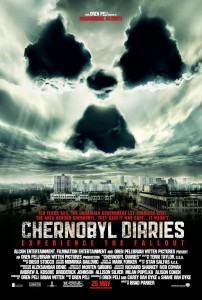 Chernobyl Diaries
Released: 2012
Directed by: Bradley Parker
Written by: Oren Peli (screenplay) & Carey Van Dyke (screenplay)
Starring: Jesse McCartney, Jonathan Sadowski & Olivia Dudley
Plot: Six tourists hire an extreme tour guide who takes them to the abandoned city Pripyat, the former home to the workers of the Chernobyl nuclear reactor. During their exploration, they soon discover they are not alone.
For: Cool poster / Uri character is fun / The abandoned city is well done
Against: Uses a documentary type film style, but never explains why, or who is holding the camera / Very boring, it takes 55 mins for anything interesting to happen / Why do they find Natalie alive? The eviscerated Uri, but she doesn't have a scratch! / The ending is ridiculously stupid! / A good idea wasted.
Favourite Scene: The group gets back to find the van gutted and the video of what happened / Natalie gets taken again (and the creepy kid)
Rating: 1.5 Lukes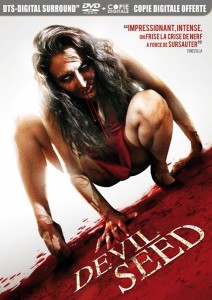 Devil Seed
Released: 2012
Directed by: Greg A. Sager
Written by: Geoff Hart & Greg A. Sager
Starring: Michelle Argyris, Shantelle Canzanese & Vanessa Broze
Plot: A demon posses a young woman and impregnates her.
For: Opening credits sequence is interesting / Ending is pretty good
Against: Everything else sucks – atrocious acting & production / Shallow Alert – why is this attractive woman going out with the weird looking douchebag?
Favourite Scene: Alex shields herself with the shower curtain and sees the outline of the demon chasing her
Rating: 1 Luke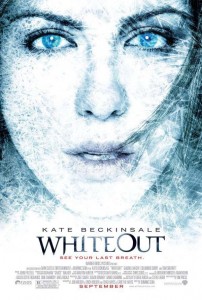 Whiteout
Released: 2009
Directed by: Dominic Sena
Written by: Jon Hoeber (screenplay), Erich Hoeber (screenplay) & Greg Rucka (graphic novel)
Starring: Kate Beckinsale, Gabriel Macht & Tom Skerritt
Plot: U.S. Marshal Carrie Stetko tracks a killer in Antarctica, as the sun is about to set for six months.
For: Some great cinematography / Solid plot / Good cast
Against: Just not very entertaining. I wanted to like this but found myself getting bored, especially since I had already read the superior graphic novel
Favourite Scene: The killer gets his comeuppance and the final revelation.
Rating: 2.5 Lukes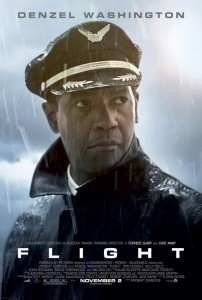 Flight
Released: 2012
Directed by: Robert Zemeckis
Written by: John Gatins
Starring: Denzel Washington, Kelly Reilly & Bruce Greenwood
Plot: An airline pilot saves a flight from crashing and is hailed a hero, but an investigation into the incident reveals his troubled past.
For: Denzel Washington is one of the finest actors of my era and this performance doesn't do anything to tarnish that / Well directed / Great Cast / Interesting story / The hero of the story isn't actually a hero at all, in fact he's kind of a prick
Against: Meanders a bit in the second half / Reilly's character is given far more screentime at the start than required,  considering that she is then under-used in the thrid act
Favourite Scene: The crash / Whip confronts Margaret at the funeral / Whip at the hearing
Rating: 4 Lukes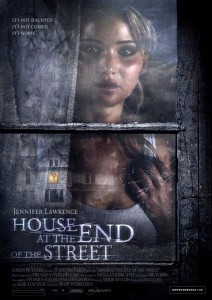 House at the End of the Street
Released: 2012
Directed by: Mark Tonderai
Written by: David Loucka (screenplay), Jonathan Mostow (story)
Starring: Jennifer Lawrence, Elisabeth Shue & Max Thieriot
Plot: A mother and daughter move to a new town and find themselves living next door to a house where a young girl murdered her parents. When the daughter befriends the surviving son, she learns the story is far from over.
For: Always good to see Jennifer Lawrence / An interesting plot…
Against: …that is completely wasted. Instead of being scary, it just ends up being boring, dull, and uninspired.
Favourite Scene: Ryan takes out Tyler
Rating: 1.5 Lukes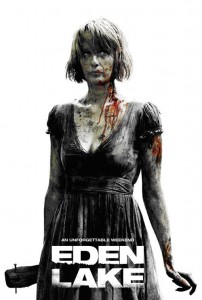 Eden Lake
Released: 2008
Directed by: James Watkins
Written by: James Watkins
Starring: Kelly Reilly, Michael Fassbender & Jack O'Connell
Plot: Refusing to let anything spoil their romantic weekend break, a young couple confront a gang of loutish youths with terrifyingly brutal consequences.
For: A horror/drama that is actually horrific / I don't know what past experiences this film forced me to brush against, but this film stirred emotions in me that actually made me angry and upset. So despite some technical annoyances this film deserves the score I gave it. I urge you to see this film.
Against: Minor stuff, some camera shots and editing weren't as good as they could have been.
Favourite Scene: Too many to list, but I'll go with the look on Brett's face when he realises exactly what the men are going to do and then his reaction upstairs.
Rating: 4.5 Lukes