By popular demand! Now you can look cool and proclaim your love for the Nerd Culture Podcast by wearing this awesome t-shirt!
Be the envy of your friends and guaranteed to make you more attractive to nerds everywhere *
They are 100% quality cotton and featuring the ominous image of HAL-9000 on the front and the Nerd Culture Podcast URL on the back.
And not only do we offer FREE Shipping to anywhere in Australia, but for a limited time only they are at an introductory price!
(PLEASE NOTE: International Shipping is currently not available, but it will be soon!)
It looks like its gonna be t-shirt weather in Australia for awhile so why not stay cool while looking cool?!
You know you want one! So click on SHOP up the top of the web page and soon you will join the over 9000** other NCP T-shirt wearers out there!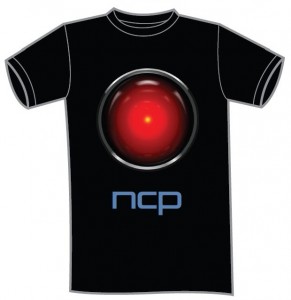 * Our guarantee is not officially guaranteed by any official Guarantee authority 🙂
** We haven't actually sold that many yet – but it's only a matter of time MWAHAHAHA