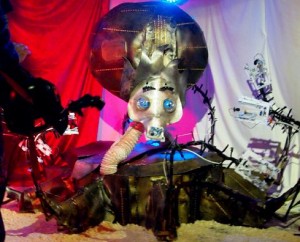 Hi All!
Here at NerdCulturePodcast we sometimes receive requests from people asking us to plug their topic/product. Sometimes it turns out to be something dodgy, or inappropriate for our family friendly image, but sometimes it's something pretty cool – and the Electric Animal Circus definitely falls into that category.
According to the creator, Patrick Gleeson, 'In a junk-punk, post-apocalyptic future an incorrigible showman and a boy genius build robotic animals from trash and make them the stars of a travelling circus.' Intriguing yeah!
He has a website that chronicles the development of the Circus from concept to future release, featuring short films, photos, music and artwork, which can be found at:
It really does look awesome, with the xylophone playing octopus my personal favourite – "Keep it simple Stratonicus!"
According to Patrick his show will be 'geek/robot/puppetry/theatre/scifi/junk-punk/music/animatronic/circus heaven' and I think he may be right.
Check it out!