Last weekend, I attended the FEC Extravaganza at All-Star Comics in Melbourne. FEC and All-Star put on a hell of an event showcasing three new books: Alisha Jade's Seven, Ben Michael Byrne's Kranburn #4, and the anthology horror book Fireside Tales.
There was a lengthy and highly entertaining Q&A with the creators, as well as signings and, most importantly, free beer! With All-Star packed out, it was clear to see that there is a lot of support for the excellent work being produced by local talent.
I picked up all 3 titles and was impressed with the overall quality of what I read. Here's some quick reviews: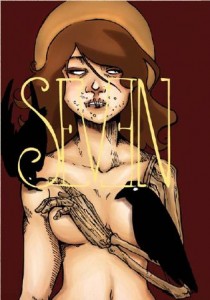 SEVEN
Alisha Jade's Seven is an incredibly layered dark fairytale that, at first glance, seems deceptively simple. Her nuanced storytelling and manga-inspired artwork are coupled with an impressive understanding of the nature of fables, metaphor and iconography.This is a book that warrants multiple readings and I'll definitely be on the lookout for more of Alisha's work.
One of the most fascinating elements of Seven lies in Kat, our protagonist who, for reasons explained in the story, cannot speak. While this might limit some artists, Alisha manages to convey Kat's emotions through body language and facial expressions, giving insight into her character through purely visual means.
Seven invokes the best and most disturbing elements of a classic Grimm's fairytale while never drawing from one specific fable. Alisha Jade understands the universality of those classic stories, drawing on elements of many to construct her own dark and fascinating tale.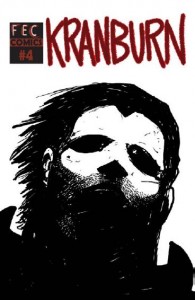 KRANBURN
Ben Michael Byrne's Kranburn is fast becoming one of the most entertaining books on the shelves. It's taken a few issues for this series to grow on me, but with the release of issue #4 I find that I'm now hooked. This post-apocalyptic series pulls absolutely no punches, presenting the dark and brutally violent world of Melbourne's south-eastern suburbs in the near future that invokes elements of Mad Max and the best of classic 2000AD.
Byrne is slowly building up his protagonist, the enigmatic Brand, providing just enough hints to his past to keep the reader hooked while still maintaining an air of mystique.
Plus there's violence. Lots of it. Like I said, this book pulls no punches.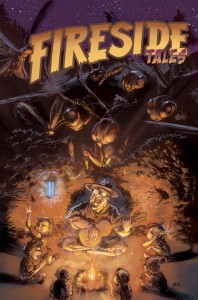 FIRESIDE TALES
Fireside Tales is an anthology book that draws its inspiration from the classic EC anthologies, complete with gruesome twist endings that were the staple of those 50's classics.
Like any anthology series, the stories vary in quality, but all 3 tales are of an unexpectedly high quality. The standout tale is The Ballad of Danny Flash by Andrew Shaw and Will Pleydon, a particularly creepy tale about a struggling guitarist who meets the Devil at the crossroads.
Anthologies are a great way to showcase talent and Fireside Tales succeeds in introducing these talented writers and artists. What's doubly impressive is that this represents the first published work from some of the talent involved.
For more info on all 3 books, check out FEC's website at www.feccomics.com or head to your local comic shop and snap up all 3. You won't be disappointed.