Welcome to our new series, Behind the Counter. We here at Nerd Culture Podcast are unashamed comic fans (except Crystal, but hopefully she'll come around!), and I thought it would be good to spotlight the many varied comic retailers available to us. Especially in Melbourne, where we really are spoiled for choice. These guys and girls work hard to help feed our hobbies and deserve some recognition and thanks.
So, to start us off I thought we'd start with fans of the show, All Star Comics Melbourne. Mitch and Troy have been hugely supportive of Nerd Culture Podcast and we cannot thank them enough.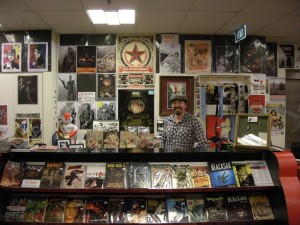 For me, the great things about All Star are the warm welcome I receive from proprietors Mitch & Troy whenever I emerge from the cool little elevator, and their obvious passion for what they're doing. I also really like the open layout of the store. There is plenty of room to browse and everything is in a logical and easy to find place. There are also great personal touches, like All Star themed fan art adorning the wall behind the counter. But that's enough from me, without further ado, take it away Mitch:
When did you first open?
We opened the night of last year's big storm, February 4th 2011
What compelled you to enter the comic shop industry?
We both originally worked for another store and at the time for both of us seemed like a fun job to go into. We both loved comics and the culture behind it and thought it would be a lot of fun. We got to a point where we thought we could possible do a little bit more within the local industry that we couldn't do where we were, so the only other option was to start our own store.
What makes your store unique?
We like to think there are a few things that make us a little different than the other stores. We firstly wanted to focus on comics. We stock a little bit of toys but we always felt new toy stock just takes up too much space and can clutter up stores. That was the next thing we try to offer, space. We like the idea that people don't feel cramped when they are in our store. This generally makes for a much more welcoming shopping experience for people, rather than feeling you are in someone's way or about to have stock full on your head from a towering shelf. We also really like embracing social media, this helps us create a positive community vibe surrounding the store. We love that people see us as a meeting spot and that people understand that we don't mind if you just want to drop in and say hi and browse and not feel like they need to buy something to be there. We also try to support local talent and like-minded business. Again this just creates a sense of community that have a positive effect on everyone.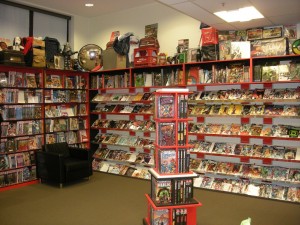 What do you like most about your job?
Being our own boss. We can come up with ideas, give it a shot and see what happens. If it doesn't work, no big loss but if it fires and people get behind it's great. That kind of creative freedom is liberating! That and the people. We are very lucky to be surrounded by the best of the comic buying community and we love them for it.
What do you dislike most about your job?
The hours but you only get out what you put in, right? 🙂
What do you think is the future of comics?
Obviously we hope that the future of comics lies in print, whether that be singles or trades. It would be stupid not to acknowledge digital and the threat it presents to stores like us but as long as stores can still offer something you can't get in a online transaction, we'll be safe. That and most fans we speak to at the moment still love having a tangible book to leave through. Until digital can master that hurdle we should be ok. On another note, we'd love to see the market turn into a purely trade market…it would make thing INFINITELY easier for us. 😀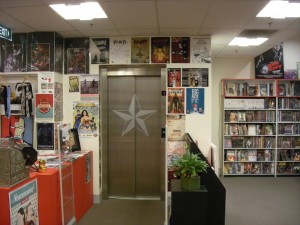 Do you have any favourite comics?
One of our personal favourites is 100 Bullets. Still find it hard to find another a complete series that's effected us like this one did.
What are you reading right now?
Saga from Vaughn is a extremely exciting space/fantasy epic, Locke & Key is classic King-like horror, Waid's new Daredevil is superb, so there is always faith that there is still brilliant stories out there to read!
Any future plans you want your shoppers to know about?
September 22nd we will be hosting the FEC Comics Kranburn #4 launch. There will be a host of other books also launched on the night with most of the creators on hand to sign and talk about their work. Beyond that there is Armageddon Expo in October and of course FCBD (Free Comic Book Day) next year. There is always a few things in the pipeline but we don't like to play our cards until things are set in stone. Just keep an eye in the All Star direction. 😉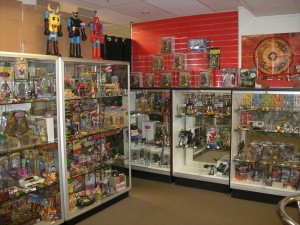 Thanks to Mitch for taking the time to answer my questions, and to Troy for being my model in the photos. For your next comic purchase you can't go wrong with All Star Comics Melbourne!
Name: All Star Comics Melbourne
Proprietors: Mitch & Troy
Address: Level 1, 410 Lonsdale Street, Melbourne, Australia, 3000  (Google Maps)
Phone: +61 3 9642 0071
E-mail: all.star.comics@hotmail.com
Web: http://ascmelbourne.blogspot.com.au/