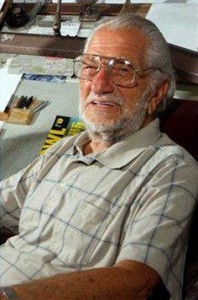 August 12 saw the passing of comic legend Mr Joe Kubert at age 85, and the world feels a little less brighter as a result.
Mr Kubert's career in comics was unsurpassed, with only Jack Kirby rivaling him in regards to his contributions to the comic industry.
Mr Kubert began his career in the industry as a teenager (his first fully illustrated comic was Volton at age 16), and never stopped, even penciling from his hospital bed.
His best known creation would be the iconic Sgt. Rock (co-created with Robert Kanigher), but he was also known for Hawkman, Tor and Enemy Ace, and personally, I will always consider him the definitive Tarzan artist.
Often considered the ultimate war story artist, Mr Kubert preferred to be remembered as an anti-war artist and his publications about the pointlessness of war, Fax From Sarajevo, Yossel, and Dong Xoai, definitely helped cement that fact.
His legacy will not only live on his his amazing body of work, but also through his art school, The Kubert School, and his artist sons Andy & Adam.
The NCP Crew wish to extend our condolences to the Kubert family and say farewell to Mr Joe Kubert.